Monday, November 17th 2008

AMD has taken steps towards providing its next embedded CPUs with the introduction of a core-logic platform that suits its thermal envelopes, while providing the kind of features essential to embedded platforms today. Its direct implementation could be the embedded low-power Athlon single and dual-core processors that could make it to UMPCs, nettops, and the likes.
The embedded processors will come in the ball-grid array package, and a reduced board footprint (package-size). At the heart of this core-logic is the AMD 780E northbridge. It is a reworked 780G chip with reduced thermal footprints. It will provide the CPU with a HyperTransport 3.0 (up to 5.6 GT/s) connection. This northbridge embeds a ATI Radeon HD 3300-class integrated graphics (IGP) which is AMD Sideport-capable. This adds the provision of adding DDR3 memory chips on the board to serve as video-memory. The northbridge provides an A-Link 2.0 connection (PCI-Express 2.0 x4) to the AMD SB7x0 class southbridge. The northbridge also features a native PCI-E multiplex to allow ATI CrossfireX with two PCI-E 2.0 x8 electrical connections. The SB7x0 southbridge provides up to six SATA II channels, 12 USB 2.0 connections, HD Audio, among others.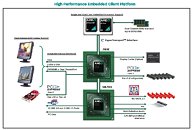 The approach AMD has towards the UMPC, nettop and other embedded platforms is simple: it will give you a better PC experience than its competitor at nearly the same price-point. The contest comes down to energy-efficiency versus features. AMD believes a basic PC experience should not be compromised for the sake of energy efficiency, which gets negated in nettop and other static platforms, while becoming a factor with mobile platforms. Details of this platform can be read
here
(PDF).