News Posts matching "Backblaze"
Return to Keyword Browsing
Overview
At the end of 2017 we had 93,240 spinning hard drives. Of that number, there were 1,935 boot drives and 91,305 data drives. This post looks at the hard drive statistics of the data drives we monitor. We'll review the stats for Q4 2017, all of 2017, and the lifetime statistics for all of the drives Backblaze has used in our cloud storage data centers since we started keeping track.

Hard Drive Reliability Statistics for Q4 2017
At the end of Q4 2017 Backblaze was monitoring 91,305 hard drives used to store data. For our evaluation we remove from consideration those drives which were used for testing purposes and those drive models for which we did not have at least 45 drives (read why after the chart). This leaves us with 91,243 hard drives. The table below is for the period of Q4 2017.
The following was posted by Seagate Senior Vice President and Chief Technology Officer Mark Re, in a Guest Blog Post on Backblaze: "Earlier this year Seagate announced plans to make the first hard drives using Heat-Assisted Magnetic Recording, or HAMR, available by the end of 2018 in pilot volumes. Even as today's market has embraced 10TB+ drives, the need for 20TB+ drives remains imperative in the relative near term. HAMR is the Seagate research team's next major advance in hard drive technology.
HAMR is a technology that over time will enable a big increase in the amount of data that can be stored on a disk. A small laser is attached to a recording head, designed to heat a tiny spot on the disk where the data will be written. This allows a smaller bit cell to be written as either a 0 or a 1. The smaller bit cell size enables more bits to be crammed into a given surface area - increasing the areal density of data, and increasing drive capacity.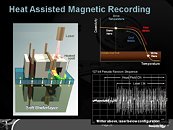 Backblaze has just revealed their HDD failure rates statistics, with updates regarding 2016's Q4 and full-year analysis. These 2016 results join the company's statistics, which started being collected and collated in April 2013, to shed some light on the most - and least reliable - manufacturers. A total of 1,225 drives failed in 2016, which means the drive failure rate for 2016 was just 1.95 percent, a improving over the 2.47 percent that died in 2015 and miles below the 6.39 percent that hit the garbage bin in 2014.

Organizing 2016's failure rates by drive size, independent of manufacturer, we see that 3 TB hard drives are the most reliable (with 1,40% failure rates), with 5 TB hard drives being the least reliable (at a 2,22% failure rate). When we organize the drives by manufacturer, HGST, which powers 34% (24,545) of the total drives (71,939), claims the reliability crown, with a measly 0,60% failure rate, and WDC bringing up the rear on reliability terms, with an average 3,88% failure rate, while simultaneously being one of the least represented manufacturers, with only 1,626 HDDs being used from the manufacturer.
Return to Keyword Browsing