News Posts matching #Boosting
Return to Keyword Browsing

World famous overclocker Der8auer published his survey of boost clocks found on 3rd generation Ryzen CPUs. Collecting data from almost 3,000 entries from people around the world, he has found out that a majority of the 3000 series Ryzen CPUs are not hitting their advertised boost speeds. Perhaps one of the worst results from the entire survey are for the 12-core Ryzen 9 3900X, for which only 5.6% of entries reported have managed to reach the boost speeds AMD advertises. However, the situation is better for lower-end SKUs, with about half of the Ryzen 5 3600 results showing that their CPU is boosting correctly and within advertised numbers.
Der8auer carefully selected the results that went into the survey, where he discarded any numbers that used either specialized cooling like water chillers, Precision Boost Overdrive - PBO or the results which were submitted by "fanboys" who wanted to game the result. Testing was purely scientific using Cinebench R15 and clock speeds were recorded using HWinfo (which got recommendation from AMD), so he could get as precise data as possible.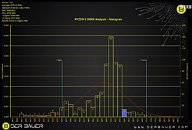 Game Boosting refers to the practice of gamers to pay other, more skilled players to "boost them up" to higher ranks, mainly in competitive multiplayer games. The practice sometimes takes the form of paid partnership with a team of skilled players (where the player that's receiving the boost is of much lower skill, but gets pulled along with the remaining members of the team's efforts) or by actually giving a player access to your account, to play as if he/her was you, and cashing in on his/her better "skillz". This practice, it goes without saying, goes against the competitive nature of certain games, and if you know your South Koreans, you know they take competitive gaming very, very (really, very) seriously.

This is why the country is seemingly looking to put an "illegal" tag on game boosting, as in, illegal enough to warrant prosecution and an actual sentence to jail (a maximum prison sentence of two years and a fine of 20 million won ($18,000). This isn't something that has been cooked up overnight: an amendment to the "Law on Game Business Development" bill was first proposed earlier this summer, and has now passed the National Assembly Legislation Review Committee, bringing it one step closer to becoming law.
Return to Keyword Browsing