News Posts matching #EGS
Return to Keyword Browsing
CD Projekt RED today issued an apology to gamers for a buggy release of Cyberpunk 2077, a game that the studio treated as its magnum opus. The open-letter apology addressed to gamers at large, and signed by CDPR higher-ups; in particular expressed regret to gamers on older-generation game consoles such as the PlayStation 4 and Xbox One. Cyberpunk 2077 looks and plays terrible on these older consoles, despite the studio charging the same $60 for the title. Game assets such as textures are of the lowest possible resolution, as is the geometry, draw-distance, and even crowds and character models. In particular, CDPR acknowledged the fact that before launch, the studio hadn't shown footage of how the game plays on these older consoles, which deprived gamers of making more informed choices.
As a token of apology, CDPR offered gamers on these older consoles full refunds on their games purchased on Xbox or PSN. Those with physical copies of the game may return it to their retailers for refunds. CDPR set up an e-mail support service for those facing difficulties in getting refunds. For those who decide to give CDPR a chance at redemption; the studio promised a major game patch slated for January 2021, and a follow-up second-patch in February. The PC version of Cyberpunk 2077 is getting regular updates through all the platforms it's sold on (GOG, Steam, and EGS).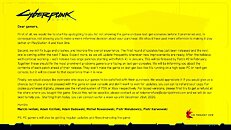 Another week, another interesting free game being driven upon us by the EPIC Games Store. This time, it's Ubisoft's 345th entry in the Assassin's Creed series: Assassin's Creed Syndicate. Set in 1868 London, smack in the middle of the Industrial Revolution, this is considered to be the title that straightened out the franchise after the ill-received Assassin's Creed Unity, with an overall 76 score in Metacritic.

Also available for free is Faeria, a collectible-card game from developers Abrakam, which has a very respectable 81 score in Metacritic and an average 7.6 user score, putting it ahead of Syndicate in both metrics. Gameplay is often compared to a mix of Catan (with its hex-based, living board) and Heartstone (due to the collectible 300+ cards the game has to offer). It has single-player and PVP modes to scratch your particular craving at the moment, so it might be an interesting (and free) addition to your library.
Return to Keyword Browsing