Monday, December 14th 2020
CD Projekt RED today issued an apology to gamers for a buggy release of Cyberpunk 2077, a game that the studio treated as its magnum opus. The open-letter apology addressed to gamers at large, and signed by CDPR higher-ups; in particular expressed regret to gamers on older-generation game consoles such as the PlayStation 4 and Xbox One. Cyberpunk 2077 looks and plays terrible on these older consoles, despite the studio charging the same $60 for the title. Game assets such as textures are of the lowest possible resolution, as is the geometry, draw-distance, and even crowds and character models. In particular, CDPR acknowledged the fact that before launch, the studio hadn't shown footage of how the game plays on these older consoles, which deprived gamers of making more informed choices.
As a token of apology, CDPR offered gamers on these older consoles full refunds on their games purchased on Xbox or PSN. Those with physical copies of the game may return it to their retailers for refunds. CDPR set up an e-mail support service for those facing difficulties in getting refunds. For those who decide to give CDPR a chance at redemption; the studio promised a major game patch slated for January 2021, and a follow-up second-patch in February. The PC version of Cyberpunk 2077 is getting regular updates through all the platforms it's sold on (GOG, Steam, and EGS).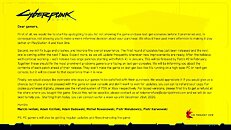 Source: CD Projekt RED (Twitter)