News Posts matching "ISGC"
Return to Keyword Browsing
Thermaltake, leading thermal solutions provider, is introducing several advanced cooling solutions for the new and upcoming Intel LGA1156 processors, ensuring users have the best choice right from day one.
The brand new Silent 1156 CPU cooler from Thermaltake is specifically designed for Intel Socket 1156 processors. Installation to the motherboard is easily done with a convenient push-pin mechanism, which for the user is an entirely tool-free procedure. For its silent operation, the 9 cm PWM fan is a treat to the users' ears. Through the PWM function the fan speed is automatically adjusted between 800 RPM to 1700 RPM according to the actual work load of the CPU. Furthermore, the side flow design makes the cooler's air flow an integral part of the overall system air flow inside the chassis. With two 8 mm heatpipes and a mirror copper base heat is transferred away from the CPU to the aluminum fins, dramatically reducing heat development.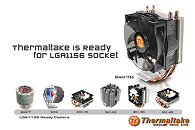 Products of Thermaltake's ISGC series have become representative of silent and good performance coolers. Users have already been expecting the newest ISGC VGA cooler to complete the collection. Now, finally the ISGC-V320 is coming with lots of killer features.

The ISGC-V320 is a true masterpiece of Thermaltake's R&D team. Its foremost feature, as a matter of course, is its surprising silence which it inherited from the original ISGC Fan. The ISGC-V320 is equipped with two 120 mm ISGC fans. Users can adjust the fan speed from 800 to 1300RPM according to their needs. Broad compatibility of the ISGC-V320 greatly enhances its convenience factor. Supported are the last graphics cards such as the NVIDIA GeForce GTX 285 and ATI Radeon HD 4890. 5 heatpipes in combination with a large dissipation surface ensure best performance under high stress. With these powerful parts, ISGC-V320 can easily take loads of up to 320W.
Thermaltae is out on the market with a brand new multi-purpose 12 cm fan. The ISGC fan appears to come with some odd curves on the blades at first sight, but this is for a reason - to help keep the noise levels coming from spinning to the absolute minimum. The 120x120x25 mm ISGC uses Hydro Dynamic Bearing (H.D.B) system, spins from 800 to 1300 RPM and has max aiflow of 58.3 CFM at only 16dBA. In the package you'll also find four rubber vibration-absorbing mounts. The ISGC 12 cm fan is yet to be priced. For more information, click
here
.
Thermaltake
Return to Keyword Browsing