News Posts matching #Windows Defender Application Guard
Return to Keyword Browsing
Just in April, Microsoft was introducing the first flighting programs for their chromium-based Edge browser, with daily (Canary) and weekly (Developer) builds being made available to users. Fast forward four months, and the company is now making it available in beta form - the last step between general availability and an official, "finished" release.

Microsoft decided to stop developing their in-house browser engine, instead taking from and building upon the open-source Chromium project, from where Google chrome takes most of its components. The decision was meant to allow Microsoft to become a more powerful player in the development of Chromium and the internet browsing experience as a whole, facilitating developers' work. The Beta of Edge supports 14 languages and some quality of life features, such as the ability to decide whether their new tab page is laid-out in a Focused, Inspirational or Informational mode. Some other supported features include Microsoft Search (integrated with Bing), Internet Explorer mode and Windows Defender Application Guard. There's also a tracking prevention browsing mode, which prevents tracking from websites that you haven't really visited. This features includes three levels of privacy - Basic, Balanced and Strict. Will this be enough to make you jump towards the Edge?
NVIDIA today released GeForce 416.34 WHQL "Game Ready" drivers. These drivers provide optimization for "Call of Duty: Black Ops 4" (retail), "Soulcaliber VI," and "GRIP." Among the fixed issues with this release are buggy shadows in "Player Unknown's Battlegrounds," some games launching to a black screen when DSR is enabled, a colorful shimmering line noticed in some games when playing full-screen with G-SYNC enabled, Surround display not being available from NVIDIA Control Panel with Edge browser running, and green screen display corruption on certain games with HDR enabled. Grab the drivers from the link below.
DOWNLOAD:
NVIDIA GeForce 416.34 WHQL
The change-log follows.
While Microsoft has been offering bug bounty incentives since at least 2012, Google has arguably been much more vocal in its bug bounty programs. The company recently increased the maximum payout in its bug bounty programs (mainly focused on Android) to a staggering $200,000, and now Microsoft is not only following suit - it's upping the game.
With the Windows Bounty Program, which Microsoft announced yesterday, the company is looking towards an increased incentive to security-hardening suggestions from tech-savvy users. This program will extend to all features of the Windows Insider Preview in addition to focus areas in Hyper-V, Mitigation bypass, Windows Defender Application Guard, and Microsoft Edge. And incentives starting at $500 and going all the way up to $250,000 are very, very respectful.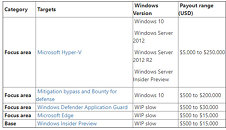 Return to Keyword Browsing