Introduction
ADATA's SX8200 SSD was one of the highlights in our recent SSD reviews—it pairs amazing performance with excellent pricing.
Now, ADATA has released the successor to the SX8200, simply called the SX8200 Pro. This new SSD uses an updated SMI controller which was just announced earlier this year. The SM2262EN comes with eight flash channels and TLC support, just like the SM2262 used on the SX8200 non-Pro. The differences seem to be under the hood as all other specifications are identical, too, with the exception that read and write speeds have gone up, now to a rated 3500 MB/s read and 3000 MB/s write.
As flash, ADATA is using the same IMFT Intel/Micron 3D NAND TLC; they just rebranded the package with "ADATA" this time around. Two DDR3 DRAM memory chips with a total capacity of 1 GB provide memory for the controller's lookup tables.
ADATA is making the SX8200 Pro available in capacities of 256 GB (not available yet), 512 GB ($118), and 1 TB ($215, this review). Endurance is set to 160 TBW, 320 TBW, and 640 TBW respectively.
As little goodie for power users, ADATA is including a small heatsink with sticky tape in their packaging, which will help bring down temperatures for desktop users. The fact that the heatsink is not pre-installed is actually a good thing, as it ensures notebook users and users with their own M.2 coolers won't have to rip off the heatsink, possibly damaging the SSD in the process.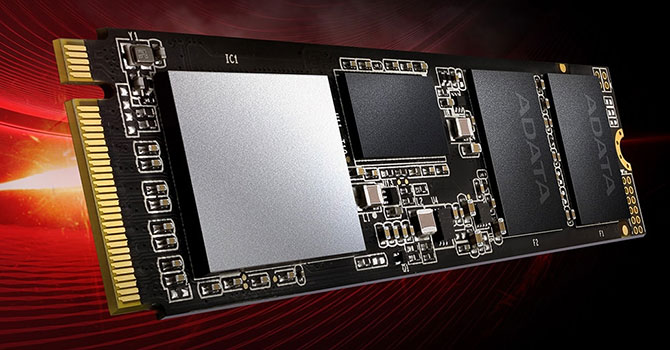 Specifications: ADATA SX8200 Pro 1 TB
Brand:
ADATA
Model:
ASX8200PNP-1TT-C
Capacity:
1024 GB (954 GB usable)
No additional overprovisioning
Controller:
Silicon Motion SM2262ENG
Flash:
Micron 64-layer 3D TLC
Rebranded as ADATA
DRAM:
Nanya DDR3 1 GB
NT5CC256M16EP-EK
Endurance:
640 TBW
Form Factor:
M.2 2280
Interface:
PCIe Gen 3 x4, NVMe 1.3
Device ID:
ADATA SX8200PNP
Firmware:
R0906B
Warranty:
5 years