Introduction
Alphacool is well known to water-cooling enthusiasts for their wide range of waterblocks for graphics cards, processors, motherboards, and so much more. They literally offer just about everything you could ever need to build the liquid-cooling loop of your dreams. That said, they're an OEM as well, producing products and cooling solutions for the likes of Cooler Master, Fractal Design, Asus, and even Sapphire.
In the current market, a move toward expandable all-in-one liquid coolers is quite evident with the likes of Swiftech, EKWB, Cooler Master, and Fractal Design all moving in that direction. With other big names already offering expandable solutions, it comes as no surprise that Alphacool would reassert its attention on the liquid-cooling market. Alphacool also has the tenacity to outshine their competitors with their array of excellent designs and user friendly options, and they are now looking to improve their presence in the market with the new Eisbaer series, which leads us to today's review of the Eisbaer 240.
The Eisbaer 240 is a standard 240mm liquid CPU cooler with an integrated pump and a CPU block that make use of standard G 1/4'' fittings for easy expansion and customization. What sets it apart, however, are the quick-lock couplings which are compatible with Alphacool's own GPX-Pro GPU AIOs. They allow for a quick and easy way to build an entire cooling loop. But even with such a great list of amazing features, performance is what wins the day, so let's take a closer look at what Alphacool's new AIO offers.
Specifications
MANUFACTURER:
Alphacool
MODEL:
Eisbaer 240
SOCKET SUPPORT:
Intel: LGA 775, LGA1150, LGA1155, LGA1156, LGA2011
AMD: G34, C32, 604, 771, AM2, AM2+, AM3, AM3+, FM1, FM2, FM2+
CPU BLOCK:
Material: Copper
RADIATOR:
Dimensions: 125 mm x 278 mm x 30 mm
Material: Solid Copper with Brass threads
PUMP:
Speed: 2600 RPM
Power: 4W
Max Discharge: 70 L/h
FAN:
Model: Eiswind
Dimensions: 120 mm x 120 mm x 25 mm
Fan Speed: 550 - 1700 RPM (PWM)
Fan Airflow: 63.85 CFM
Fan Noise: 29 dBA
FEATURES:
PVC tubing with anti-kink coils
Standard G 1/4" fittings
8mm ID / 11mm OD Tubing
Maintenance free, no refill required
Solid copper radiator
Quick-lock couplings
Fully expandable
WARRANTY:
Three year
MSRP:
$129.00 / €114.95
Packaging
The Alphacool Eisbaer 240 comes in a large box that is roughly 33.3 cm long, 24 cm wide, and 13.6 cm high. On the front, you will find a close-up of the Eisbaer pump, along with a list of supported sockets. The Alphacool logo is also clearly visible. Moving to the back, you will find a similar design as on the front, although of the included fan - there are no other noteworthy differences between the two sides.
The top and bottom feature the same design as the sides. Overall, the box is quite plain, with no listed features or specifications. Those additions would have been nice to see.
Contents
The box, once opened, reveals everything, encased in a cardboard shell with a thin layer of foam on top. While not as thick as I would like, it is adequate.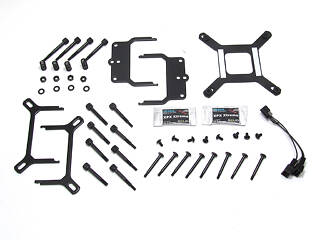 Alphacool's Eisbaer 240 supports most modern sockets and even some legacy and server sockets. Everything you will need is provided, although you won't find much in the way of extras.
Common parts supplied for mounting include:
8x M3 radiator screws
8x M3 short radiator screws
4x Intel mounting screws
4x Intel 2011 mounting screws
4x Mounting screw springs
4x Mounting screw washers
4x Mounting screw nuts
4x AMD mounting screws
2x 120 mm fans
2x AMD mounting clips
2x Intel mounting clips
2x Packets of thermal paste
1x Backplate
1x Pre-filled liquid cooler
1x User's manual
1x PWM splitter