Introduction
First of all, I would like to thank
AMD
for providing the tested Phenom II X4 980 BE processor sample,
MSI
and
ASUS
for providing the 890FXA-GD70 and P8P67 EVO motherboards,
G.Skill
for providing RipjawsX DDR3 memory, and
Links
for their continued support.
As it would seem, history likes to repeat itself and once again we have a new Phenom II X4 model in our hands. And just like the three models before, it comes with another 100 MHz clock bump over its predecessor. The new Phenom II X4 980 Black Edition represents a new "flagship" in AMD's quad core line up, and with its cores clocked to 3.70 GHz, it's also the fastest clocked processor AMD ever sent to the retail market, but then again, we're seeing the same story repeat itself for the third time now. And by now, with Sandy Bridge being around every corner, AMD's story has become a little bit worn out. Nevertheless, AMD's new Phenom II X4 980 is here and it would be unfair to judge it without thorough analysis of its performance and features.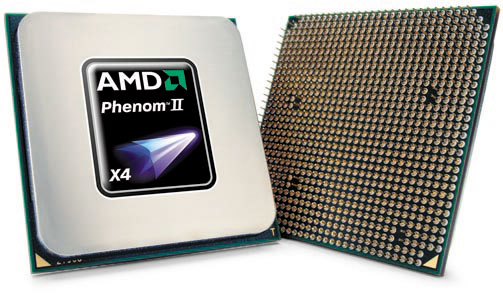 Packaging and Contents
We received our test sample in tray package, but the retail version packaging comes with AMD certified cooler, manual and three year warranty.
Phenom II X4 980 BE
Little has changed on Phenom II X4 980 BE comparing it to the previous, slower models. In fact, except for a small 100 MHz speed bump over last 975 BE model, everything has remained the same. Based on good ol' Deneb, featuring four physical logical cores, each equipped with 64 KB L1 and 512 KB L2 cache per core, and a big pool of 6 MB L3 cache shared between all cores. As mentioned before, core frequency is set to a very high 3.70 GHz, but even so AMD managed to keep power consumption well in check, mostly thanks to the refined and perfected manufacturing process of Deneb cores, so TDP stays at acceptable 125 W. Core voltage hasn't been changed from previous model and is set to around 1.375 V - 1.40 V. Heat output has stayed in very acceptable levels as well, so you won't be needing anything more than a budget cooler to keep temperatures in check. Of course, Cool'n'Quite is present with this model as well as with any other Phenom II or Athlon II model for that matter. When idling, C'n'C will drop clock all the way to 800 MHz per core, and core voltage will go down to just below 1.00 V, saving a good deal of power draw.
Phenom II X4 980 BE is a native AM3 socket processor paired with DDR3 memory, if you plan to make use of its full potential, but it's also supported by many older AM2/AM2 motherboards. Thanks to its advanced integrated memory controller, Phenom II X4 980 supports both 1333 MHz DDR3 and 1066 MHz DDR2 memory in single or dual channel configurations. This makes it a good choice for older platforms, as the update is easy and quick to do.
For pricing AMD is using the same tactics as before, slotting in a slightly faster model at the previous "flagship" price point, and lowering pricing of all other models. Currently with a price tag of $185 Phenom II X4 980 is put against Intel's Sandy Bridge locked Core i5 series, closest to Core i5 2400. Surprisingly Phenom II X4 980 BE has some tough competition even from its own ranks, with six core Phenom II X6 1075 and Phenom II X6 1090T being priced very similar, and although it offers faster "stock" clocks, six cores and Turbo Core feature make the Phenom II X6 series a more logical choice right from the start, especially when price is the same. Although the same can't be said for AM2/AM2+ users, as many of those older boards don't support Phenom II X6 series.
The "Black Edition" suffix in the processor name of course means the clock multiplier is unlocked for easy overclocking without the trouble of finding the right HyperTransport to DRAM ratios. Other important features that Phenom II X4 980 supports can be read from the CPU-Z screenshot, and for more information hungry readers, I'd advise some of our earlier
reviewed
Deneb samples, where we discussed the architecture's features in more detail.