Introduction
Had someone told us back in October 2013 that AMD could possibly create a dual-GPU graphics card based on its fast-yet-feisty "Hawaii" silicon with all the GPU units enabled and as a two-slot card that draws its power out of just two 8-pin connectors, we'd have asked them what they were smoking and if we could have some of that stuff. Well, they now stand vindicated because the new Radeon R9 295X2 is a 30 cm-long two-slot card alright, although it also lugs along a 120 mm radiator and factory-fitted tubing that you'll have to find room in your case for (more so if you already have a liquid CPU cooler installed).
The design goals for the Radeon R9 295X2 couldn't be more clear – to offer a no-nonsense CrossFire-on-a-stick solution made up of two R9 290X chips. The idea is to pack enough graphics processing muscle into one card to make any game out there playable at 4K/60Hz, with the eye-candy cranked up. The display output configuration of four mini-DP 1.2 and a dual-link DVI should inspire multi-display gamers.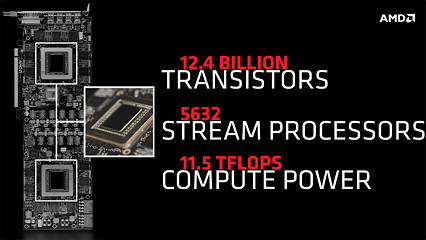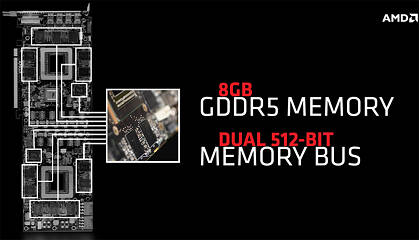 There was simply no way AMD could have done two things with this card – one, to completely air-cool the card as a dual-slot solution and, two, to power two 250W chips with just two 8-pin power connectors.
AMD overcame the first hurdle by turning to water-cooling OEM giant Asetek for an innovative cooling solution, a factory-fitted, closed-loop cooler with two block + pump assemblies serially plumbed to a single 120 mm radiator + reservoir assembly. The radiator may look inadequate at first, but our temperature measurements show that AMD managed to make it work without overheating. The card still has a 100 mm red LED-lit fan, which cools the centrally located VRM heatsink and the base-plate that cools the memory and bridge chip.
The second hurdle was overcome, of course, by breaching ATX specifications and drawing more power than allowed from the two 8-pin power connectors. For the Radeon R9 295X2, AMD recommends that the plugs powering the card are wired to a +12V rail on your PSU with at least 28A of current on tap per plug. Looking at these power requirements, we are forced to at least recommend a 750W PSU for a build with one of these cards, preferably one with a single +12V rail design and a decent efficiency rating.
Under the hood, the Radeon R9 295X2 is every bit a duo of two R9 290X GPUs. Each of the two 6.2 billion-transistor GPUs has all its 2,816 GCN2 stream processors enabled, along with 176 texture memory units, 64 ROPs, and 512-bit wide GDDR5 memory interfaces that each hold 4 GB of memory for a total of 8 GB on the card, which should be more than enough memory for any display configuration you can try out with this card.
At US $1,499, the Radeon R9 295X2 is about $400 more expensive than two R9 290X cards, which looks steep, but is nowhere as obnoxious as the $3000 NVIDIA will ask for its GeForce GTX TITAN-Z since that is $1000 costlier than buying a pair of GTX TITAN-Black cards. In a way, NVIDIA's marketing arrogance is working in AMD's favor. Despite being a $1500 card, which is 50% costlier than its predecessor, the HD 7990, and a stunning 115% costlier than the HD 6990, it ends up looking like a good option on paper. That said, our review will show how well the R9 295X2 holds up in practice.
Radeon R9 295X2 Market Segment Analysis
GeForce
GTX 780
Radeon
R9 290
Radeon
R9 290X
Radeon
HD 7990
GeForce
GTX Titan
GeForce
GTX 780 Ti
GeForce
GTX 690
Radeon
R9 295X2
Shader Units
2304
2560
2816
2x 2048
2688
2880
2x 1536
2x 2816
ROPs
48
64
64
2x 32
48
48
2x 32
2x 64
Graphics Processor
GK110
Hawaii
Hawaii
2x Tahiti
GK110
GK110
2x GK104
2x Hawaii
Transistors
7100M
6200M
6200M
2x 4310M
7100M
7100M
2x 3500M
2x 6200M
Memory Size
3072 MB
4096 MB
4096 MB
2x 3072 MB
6144 MB
3072 MB
2x 2048 MB
2x 4096 MB
Memory Bus Width
384 bit
512 bit
512 bit
2x 384 bit
384 bit
384 bit
2x 256 bit
2x 512 bit
Core Clock
863 MHz+
947 MHz
1000 MHz
1000 MHz
837 MHz+
876 MHz+
915 MHz+
1018 MHz
Memory Clock
1502 MHz
1250 MHz
1250 MHz
1500 MHz
1502 MHz
1750 MHz
1502 MHz
1250 MHz
Price
$480
$460
$570
$900
$1000
$660
$1000
$1500