Introduction
We have with us ASRock's very first graphics card, the Radeon RX 580 Phantom Gaming X 8 GB. When ASRock started operations in the early-2000s, no PC enthusiast took it seriously. It focused on low-cost motherboards made on entry-level chipsets, but over the years, earned a lot of brand equity by targeting the largest segment of the market first. As the company became more independent from ASUSTek, it started directly competing across all market segments and earned respect from PC enthusiasts for coming up with some of the boldest and strangest motherboard designs. The company has since matured into a solid motherboard brand that has products in every price-band.
ASRock's expansion into other product segments beyond motherboards has been rather conservative compared to the likes of ASUS and MSI. The company is looking to change that with the biggest entry since motherboards - graphics cards. Several industry observers commented that ASRock's decision to sell graphics cards has less to do with PC gaming and more to do with the breakneck growth of GPU-accelerated blockchain compute, particularly crypto-currency mining. ASRock didn't take the route of some other graphics card manufacturers that made mining-specific graphics cards (which lack even display connectors, are extremely basic, and often with close to no product warranties). The company doesn't want to appear greedy to PC gamers, and hence, its graphics cards are full-fledged. Its first sub-brand for graphics cards is called Phantom Gaming, with an emphasis on "gaming."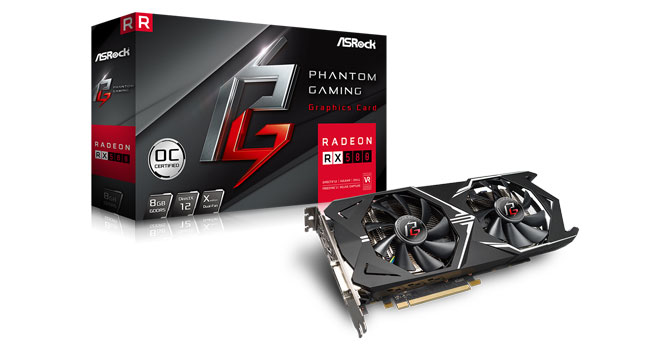 AMD is the launch partner for ASRock's Phantom Gaming series, with the lineup being entirely based on the company's Radeon RX 500-series "Polaris" GPUs. The card we have with us is the top-dog Radeon RX 580 Phantom Gaming X 8 GB. This card combines a PCB that is custom-design, although laid out similar to AMD's reference-design PCB. There's also Micron-made 8 Gbps GDDR5 memory, and a cooling solution which many have commented looks identical to the ones found on some Colorful graphics cards (probably same OEM). This cooler is a proper aluminium fin-stack heatsink with copper heat pipes feeding heat to it.
The ASRock RX 580 Phantom Gaming X 8 GB is factory-overclocked to speeds of 1380 MHz out of the box, with two software-toggled presets either spooling it up to 1435 MHz (OC Mode) or bucking it down to 1324 MHz (Silent Mode). The card features 8 GB of GDDR5 memory across the RX 580's 256-bit wide memory interface. Pricing and availability is up in the air. You won't find it in Europe, and in the regions that you do, it's among the more affordable RX 580 cards. While official pricing isn't available yet, the card is expected to be one of the most affordable RX 580s on the market, so we picked a price of $290 for our comparisons (which is the price of the cheapest RX 580 on Newegg at this time).
Radeon RX 580 Market Segment Analysis
Price
Shader
Units
ROPs
Core
Clock
Boost
Clock
Memory
Clock
GPU
Transistors
Memory
RX 470
$400
2048
32
932 MHz
1216 MHz
1650 MHz
Ellesmere
5700M
4 GB, GDDR5, 256-bit
RX 570
$250
2048
32
1168 MHz
1244 MHz
1750 MHz
Ellesmere
5700M
4 GB, GDDR5, 256-bit
GTX 970
$300
1664
56
1051 MHz
1178 MHz
1750 MHz
GM204
5200M
4 GB, GDDR5, 256-bit
RX 480
$500
2304
32
1120 MHz
1266 MHz
2000 MHz
Ellesmere
5700M
8 GB, GDDR5, 256-bit
RX 580
$290
2304
32
1257 MHz
1340 MHz
2000 MHz
Ellesmere
5700M
8 GB, GDDR5, 256-bit
ASRock RX 580 Gaming X
$290
2304
32
1257 MHz
1380 MHz
2000 MHz
Ellesmere
5700M
8 GB, GDDR5, 256-bit
GTX 1060 3 GB
$230
1152
48
1506 MHz
1708 MHz
2002 MHz
GP106
4400M
3 GB, GDDR5, 192-bit
GTX 1060
$300
1280
48
1506 MHz
1708 MHz
2002 MHz
GP106
4400M
6 GB, GDDR5, 192-bit
GTX 980 Ti
$390
2816
96
1000 MHz
1075 MHz
1750 MHz
GM200
8000M
6 GB, GDDR5, 384-bit
R9 Fury X
$380
4096
64
1050 MHz
N/A
500 MHz
Fiji
8900M
4 GB, HBM, 4096-bit
GTX 1070
$470
1920
64
1506 MHz
1683 MHz
2002 MHz
GP104
7200M
8 GB, GDDR5, 256-bit
RX Vega 56
$600
3584
64
1156 MHz
1471 MHz
800 MHz
Vega 10
12500M
8 GB, HBM2, 2048-bit
Packaging and Contents
You will receive:
Graphics card
Documentation + driver disc
The Card
ASRock's card comes with a fairly clean look and straight edges. The plastic shroud has some metal applications as highlights. A backplate is not available. Dimensions of the card are 26.5 cm x 11.0 cm. Note how the back of the shroud is just plastic without function; you could cut that off to fit the card in a smaller case, thus saving about 2.5 cm.
Installation requires two slots in your system.
Display connectivity options include a DVI port, one HDMI port, and three DisplayPorts.
The HDMI port is version 2.0b, and DisplayPort supports 1.3 HBR3/1.4 HDR ready, which enables support for 4K @ 120 Hz and 5K @ 60 Hz, or 8K @ 60 Hz with two cables. GPU-accelerated encoding is now supported for H.264 at up to 4K30, and HEVC is supported at up to 4K60. Accelerated decoding is supported for HEVC at up to 4K60 Main-10, VP9 is supported at up to 4K, and H.264 works at up to 4K120.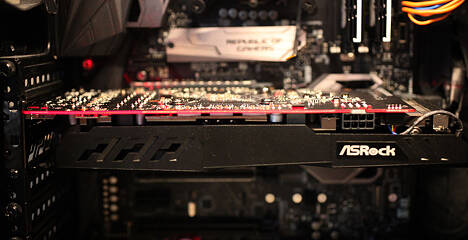 We shine the light from a self-leveling line laser onto the card, which shows no sagging.
Pictured above are the front and back, showing the disassembled board. High-res versions are also available (
front
,
back
).
A Closer Look
ASRock's card uses just three heatpipes—this is a much simpler (and cheaper) cooler than on the higher-end RX 580 models.
The board uses a single 8-pin power connector. This input configuration is specified for up to 225 watts of power draw.
AMD CrossFire has been running over the PCI-Express bus for a few generations now. The Polaris Series is no different.