Packaging
One look at this box says it all in my books. Board name and a design that hint at the board's aesthetic are both here, and not much else. The rear of the box goes into detail on the main features ASRock's Taichi offers.
Inside the box you'll find another black box since what you see on the shelf is basically just an outer wrapper. When you flip it open, you'll find the accessories up top, with the board hidden under a cardboard separator.
The board itself is wrapped in protective foam, which goes a long way to keep it safe and secure during its journey from the factory to your PC. The foam is secured to the board with small zip ties you'll have to cut off in order to get your board out.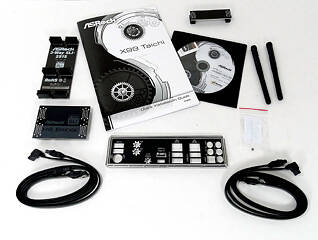 There are just enough accessories in the box. A full list of what is included is below:
Quick installation guide, support CD, I/O shield
4 x SATA data cables
1 x ASRock SLI_HB_Bridge_2S card
1 x ASRock SLI_Bridge_2S card
1 x ASRock 3-Way SLI-2S1S bridge card
2 x ASRock WiFi 2.4/5 GHz antennas
2 x Screws for Ultra M.2 socket
A very exciting added bit of kit here is an NVidia HB SLI Bridge, ready for all you 4K users. This is the second board I've seen ship with such a bridge, and since I see people asking where these bridges will come from, here's your answer. It makes sense, too, since as GPU power progresses, new bridges are naturally going to be needed, and SLI bridges have come with motherboards since SLI has been available. This ensures that the provided bridges match the slot configuration. To see ASRock have a HB bridge here to support GTX 1070 and GTX 1080 users is fantastic.