Introduction
You have not been paying a lot of attention if you by now do not know who ASRock is and what they have to offer. Having been around for quite some time as an enthusiast-focused board manufacturer, ASRock has definitely made a name for itself by providing a host of affordable and functional daily-driver boards and everything up to crazy LSI RAID-equipped storage monsters for every platform, aside from a bunch of other products. From the Fatal1ty line some love, but many hate and to the OC Formula line of boards purely focused on pushing the limits of attainable frequencies, no matter what sort of user you are, an ASRock product should have crossed your path at some point. I have covered many myself and still have quite a few sitting here that I have yet to cover. ASRock is serious about giving you what you want, no matter the twist you desire, and with that in mind, I asked them for some mITX products to review.
I have had many requests for mITX product reviews, so much so that it has almost been overwhelming. With current technology offering pretty respectable performance while using very little power, many users want smaller systems that simply take up less space under the desk, or are small enough to dissolve from view in a home theater. With Intel's Haswell offering nearly perfect levels of performance for high-end home theater builds, great for ripping and encoding movies or playing a lightweight game or two, and nearly anything that might be internet-based, the ability to make computing that much less intrusive on daily living is something many cannot ignore. Valve's Big Picture and STEAM OS show that the entire industry recognizes this movement, nevermind that many enthusiast case makers have supporting products for mITX builds. ASRock does recognize this as well, having sent me a mITX Haswell-based board nearly immediately after I asked for one so many months ago, and since then, it and several other mITX boards have been poked, prodded, and abused for 6 months, and over the next several weeks, I'll be reporting my findings to you.
The ASRock Z87E-ITX is a small base for high-performance computing platforms that even those interested in smaller-sized gaming boxes might want to pay attention to, nevermind everyone else. Built-in WiFi and a decent set of overclocking-focused features make the ASRock Z87E-ITX an interesting option for those looking to get everything Intel's Haswell has to offer into a smaller form factor.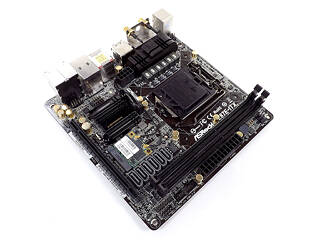 Specifications
Specifications
CPU SUPPORT:
4th Gen Intel Core i7/i5/i3/Pentium/Celeron processor family for the LGA 1150 Socket
POWER DESIGN:
CPU Power: 6 Phases
Memory Power: 1 Phase
CHIPSET:
Intel Z87 Express
INTEGRATED GRAPHICS:
Dependant on installed CPU
MEMORY:
2 x DIMM, Max. 16 GB, DDR3 1066 to DDR3 2933+(OC)
BIOS:
AMI UEFI BIOS with 64 Mb Flash ROM
SLOTS:
1 x PCI Express 3.0 x16 slot
1 x mSATA slot
1 x mini-PCI Express 2.0 x1 slot(for WiFi)
HDD CONNECTVIITY:
6 x SATA 6.0 Gb/s (6 @ Intel Z87)
NETWORKING:
1 x Giga PHY Intel I217V
PORTS:
6 x USB 3.0 ports (2 at front panel, 4 at rear panel)
6 x USB 2.0 ports (4 at front panel, 2 at rear panel)
1 x PS/2 Keyboard/Mouse port
2 x RJ45 LAN connectors
1 x Audio block with 6 audio jacks
1 x eSATA port
1 x Optical S/PDIF port
1 x HDMI-out port
1 x DVI port
1 x Displayport
1 x CMOS Clear Switch
AUDIO:
Realtek ALC1150 7.1 HD Audio Codec
FAN HEADERS:
1 x 4-pin PWM, 1 x 3-pin
FORM FACTOR:
mITX Form Factor (170 mm x 170 mm)
EXCLUSIVE FEATURES:

ASRock A-Tuning
ASRock Instant Flash
ASRock APP Charger
ASRock XFast USB
ASRock XFast LAN
ASRock XFast RAM
ASRock Crashless BIOS
ASRock OMG (Online Management Guard)
ASRock Internet Flash
ASRock UEFI System Browser
ASRock UEFI Tech Service
ASRock Dehumidifier
ASRock Easy RAID Installer
ASRock Easy Driver Installer
ASRock Interactive UEFI
ASRock Fast Boot
ASRock Restart to UEFI
ASRock USB Key
ASRock FAN-Tastic Tuning
Hybrid Booster
ASRock U-COP
Boot Failure Guard (B.F.G.)
Good Night LED