Storage Manager
Storage Manager allows you to check on or configure the NAS server's volume(s). You can also check the disks and create an iSCSI target and LUN. Using iSCSI will make the disks inside the NAS appear as local disks on any client PC; however, all data will be transferred to and from them over the network. LUN stands for Logical Unit Number: numbered disk drives the client PC's operating system sees as volumes.
Access Control
Configure user- and group accounts, set domain users and groups, manage shared folders, and set application privileges in ADM's Access Control panel. You can also set user access rights to various applications for individuals or groups here. You can, for instance, deny some users access to such sensitive applications as Surveillance Center. The Surveillance Center icon won't be available to those users in ADM.
Creating a shared folder in ADM is a piece of cake. It is also possible to encrypt a folder. ADM only supports folder encryption, not volume encryption. The ability to encrypt folders is usually preferable since it gives you more control over your encrypted content (users usually only want portions of their data encrypted, not the entire volume). However, we believe Asustor should offer volume encryption as well.
Services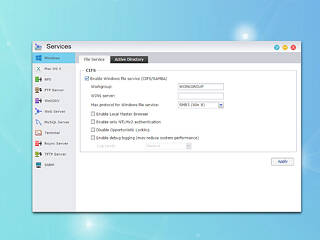 These options allow you to enable some of the additional services ADM includes: Windows file service, Mac file service, NFS, FTP server, terminal service, etc. You should enable the terminal service if you are looking to connect to the NAS through SSH.
A tip about these settings: If you want to discover the NAS on a Windows client PC, set the Workgroup that client belongs to on the NAS.
App Central
You will find numerous interesting applications in App Central; installing them is easily done.
Asustor and its third party users and companies did a tremendous job with App Central, so there are currently numerous applications you can pick from for your Asustor NAS server.
Backup & Restore
These options allow you to set up ADM's two-way backup and restore features. You can also configure the function of the USB button at the front here. The NAS can be used as a centralized backup server in a variety of ways:
Use the NAS as an FTP or Rsync server and back data up to it.
Use the built-in Rsync Backup function to pull data from other devices.
Use the built-in FTP Backup function to pull data from other devices.
Use Backup Plan to back a Windows PC or server up to the NAS.
You can also remotely replicate the NAS using the following methods:
Use Remote Sync to push data to an Rsync-compatible server or another ASUSTOR NAS
Use FTP Backup to push data to an FTP server or another ASUSTOR NAS
Use Cloud Backup to push data to Amazon S3
There is also Mission Mode. It provides two options you can use when configuring your backup jobs: You can have a job continuously attempt to connect for a specified period of time or specify the number of re-connection attempts should a connection fail.
System Info
The System Information window provides useful information about the NAS server's hardware model, its software version, network settings, and the system's present state. It also displays information on online users and a useful log feature.
Activity Monitor
Activity Monitor shows how heavily the CPU's cores, memory, and network port are being utilized. It also shows how heavily the disks are being taxed and lists all running processes and the resources these use.
External Devices
You can format an external storage device into all popular file systems. The External Devices menu allows you to control all currently connected devices.