Introduction
Ballistix memory has been around for a long time, but there's now a slightly new outlook and focus from the Ballistix branding, now its own entity. Included with that new focus is a higher level of high-speed DDR4 memory from Ballistix, scaling speeds up to 3466 MHz.
Although the actual name might be different, what Ballistix offers isn't. You get the same quality of memory and excellent product support along with decent pricing and a lifetime warranty. Really, nothing is different other than there being a simplified name, and I'll be honest, that makes my job all that much easier. Nobody likes typing one-two-buckle-my-shoe-DDR4-sticks.
So we've got a new name, a new website, and new speeds, but we've got the same basic look and the same design and aesthetics you are used to, although I think we might be seeing some other new things in the near future as well. Today, however, we've got the 3466 MHz Ballistix Elite sticks to take a look at.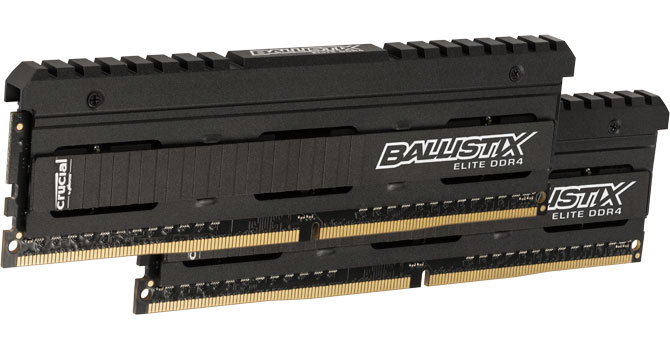 Specifications
Specifications
Manufacturer:
Ballistix
Model:
BLE8G4D34AEEAK
Speed Rating:
DDR4-3466 (PC4-27700)
Rated Timings:
16-18-18-36-2t
Tested Capacity:
32 GB (8 GB x4)
Tested Voltage:
1.35 V
PCB Type:
8 Layer
Registered/Unbuffered:
Unbuffered
Error Checking:
Non-ECC
Form Factor:
288-pin UDIMM
Warranty:
Limited Lifetime