Introduction

Most of you might know BIOSTAR from the numerous motherboards they have released over the years. This Taiwanese hardware manufacturer entered the SSD market in 2016 and is expanding their offerings now.
Today, we have for review the BIOSTAR M700 512 GB SSD, which comes in the M.2 form factor, using a fast PCI-Express x4 3.0 NVMe connection to interface with the rest of the system.
Under the hood, the M700 SSD is built around a Silicon Motion SM2263XT controller paired with 64-layer 3D TLC flash from Intel. An important cost optimization is that the BIOSTAR M700 doesn't come with a dedicated DRAM chip, which allows the M700 to reach price levels that are unheard of for M.2 NVMe SSDs.
Including a DRAM chip adds a few dollars to the design cost, so manufacturers have always looked for ways to get rid of it. The big challenge for DRAM-less designs is that the DRAM chip usually caches the mapping tables, which tell the controller where to find the data. Without it, a portion of the flash memory has to be used for that task, which is much slower. We'll take a detailed look at that in this review.
BIOSTAR's M700 is available in capacities of 256 GB ($30), 512 GB ($50) and 1 TB ($95). Endurance for these models is not specified, BIOSTAR simply gives a 3 year warranty.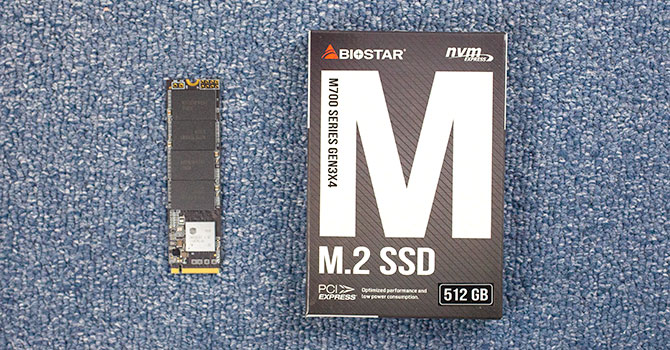 Specifications: BIOSTAR M700 SSD
Brand:
BIOSTAR
Model:
M700-512GB
Capacity:
512 GB (447 GB usable)
No additional overprovisioning
Controller:
Silicon Motion SM2263XT
Flash:
Intel 64-layer 3D TLC
DRAM:
N/A, 32-64 MB Host-Memory-Buffer
Endurance:
Unlisted
Form Factor:
M.2 2280
Interface:
PCIe Gen 3 x4, NVMe 1.3
Device ID:
BIOSTAR M700-512GB
Firmware:
S0614B0
Warranty:
3 years
Price at time
of review:
$50 / 10 cents per GB