Introduction
We would like to thank BitFenix for supplying the review sample.
After the very good Whisper line, BitFenix hasn't stopped, again cooperation with Channel Well Technology (CWT) for yet another PSU line, the Formula series consisting of more affordable members without modular cables. The Formula series includes four units with capacities ranging from 450-750 W.
The strongest Formula PSU - its model number is BF750F - will be our subject of interest in this review. The BF750F has 80 PLUS Gold efficiency and meets Cybenetics' requirements for their corresponding ETA-B (88-91% efficiency) and LAMBDA++ (<20 dB[A] noise) ratings. This is a very quiet PSU, and the other Formula units with less capacity are even quieter. As it seems, CWT is an expert when it comes to building quiet platforms, which BitFenix has taken full advantage of with both its Whisper and Formula lines.
Specifications
Bitfenix BF750G Features & Specifications
Max. DC Output
750W
PFC
Active PFC
Efficiency
ETA-B, 80 PLUS Gold
PSU Noise
LAMBDA A++
Modular
No
Intel C6/C7 Power State Support
Yes
Operating temperature
0°C - 40°C
Protections
Over Voltage Protection
Under Voltage Protection
Over Power Protection
Over Temperature Protection
Over Current Protection
Short Circuit Protection
Cooling
120 mm Fluid Dynamic Bearing Fan (DF1202512SEMN)
Semi-passive operation
No
Dimensions
150 mm (W) x 86 mm (H) x 140 mm (D)
Weight
1.91 kg
Compliance
ATX12V v2.31, EPS 2.92
Warranty
5 years
Price when reviewed (excl. VAT)
$89.90
This PSU has both the Cybenetics ETA-B and LAMBDA-A++ badges and is 80 PLUS Gold certified. The LAMBDA-A++ noise badge is representative of a very quiet operation wherein a unit's overall noise output stays below 20 dB(A). In an effort to restrict production costs, there are no modular cables; none of these can be removed.
The maximum operating temperature for a continuous full load is restricted to 40°C, and all the necessary protection features are present. This unit's cooling duties are handled by a 120 mm FDB fan that isn't supported by a semi-passive mode, but we don't mind the lack of a semi-passive operation as long as the fan's RPM is low at light and moderate loads. Finally, the warranty is long enough at five years, and the unit will set you back nearly $90. $90 is enough for a unit with modular cables and a similar capacity from other brands, which means the BF750G will have to do quite well in terms of performance to be competitive.
Bitfenix BF750G Power Specifications
Rail
3.3V
5V
12V1
12V2
12V3
12V4
5VSB
-12V
Max. Power
22A
22A
25A
25A
35A
35A
2.5A
0.5A
120W
750W
12.5W
6W
Total Max. Power
750W
There are four +12V rails, of which two have 10A more current output than the others. The maximum combined power of the minor rails is enough for a modern system, and the 5VSB rail has the capacity typical of a contemporary PSU.
Cables & Connectors
Fixed Cables
Description
Cable Count
Connector Count (Total)
Gauge
ATX connector 20+4 pin (660 mm)
1
1
18-22AWG
4+4 pin EPS12V (680 mm+150 mm)
1
2
18AWG
6+2 pin PCIe (550 mm+150 mm)
2
4
18AWG
SATA (510 mm+150 mm+150 mm+150 mm)
1
4
18AWG
SATA (510 mm+150 mm)+4 pin Molex (+150 mm+150 mm)
2
4 / 4
18AWG
There are two EPS and four PCIe connectors, and eight SATA and four 4-pin Molex connectors. Given this is a non-modular unit, we are happy with the number of available cables and connectors, and the distance between connectors is 15 cm, which is perfect.
Power Distribution
Power Distribution
12V1
ATX, SATA, Peripheral
12V2
EPS
12V3
PCIe1
12V4
PCIe2
This PSU has four +12V rails, distributed well among what available cables and connectors there are.
Packaging
The Cybenetics logos are glued onto the plastic wrap surrounding the box. This means that they were obtained in a rush, at the very last moment. Given it is difficult for a manufacturer to gauge how much noise output (and efficiency) a forthcoming PSU will produce, the natural process is to first evaluate a PSU to then provide the certification and its corresponding badge, which can delay the box's graphics design, so stickers have to be used, at least for the first few batches.
Things are much easier with the 80 PLUS certification, where OEMs build a PSU with a specific 80 PLUS level in mind and just send the sample in for testing in order to get the official certification. Now, we do not know what happens if such a sample fails to meet a manufacturer's original efficiency target. When a platform has already been certified by 80 PLUS, though, all of its derivatives can be certified without retesting, even if there are some major component changes. This means that a brand doesn't need to send any samples to 80 PLUS if it uses a platform its OEM has already had certified; instead, a small fee is paid in order to be able to use the corresponding 80 PLUS badge. The aforementioned procedure is incredibly wrong in our opinion since our experience has shown that even the slightest of changes to the componentry can affect a PSU's efficiency.
A sticker on one of the box's sides provides the part and model numbers. On another side of the box are only the model number and two icons for the 80 PLUS Gold certification and five-year warranty.
You will find a features description in four different languages on this side.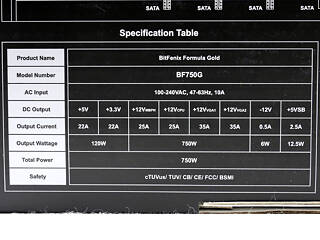 Around the back is a scheme showing all available cables/connectors along with their cable lengths, a power specifications table, the fan-noise chart, and a scheme depicting the PSU's dimensions.