About Cebit
Throughout the past 20 years, thousands of suppliers and users from all over the world have come together every year in the early spring at CeBIT in Hannover, Germany.
With 6,270 exhibitors (52 percent from abroad) and a net display area of 309,000 square meters CeBIT is once again reasserting its singular role among the world's IT and telecoms trade fairs in 2005. In just one and a half decades, CeBIT has grown from its origins as part of the HANNOVER FAIR to become the world's leading event for information technology, telecommunications, software and services.
We will be staying at Cebit for the first five days and try to bring you the most important news from the hardware sector.
XGI Technologies
XGI presented us a first working prototype of their first new PCI-Express chip called XG47.
Direct competition is ATI's X300 and NVIDIA's 6200 Series - while this is only the value video card segment, XGI says their boards will be a good amount cheaper than the competition.
The Shader Model 2.0 chip, has 2x2 pixel pipelines and 4 Pixel Shaders. It is manufactured using a 0.13u process, has 40 million transistors and a native PCI-E interface. Target clock speeds are in the 300 Mhz range for GPU frequency and 350 Mhz DDR for the memory.
A unique feature is full HDTV support which can't be had so cheap from any other manufacturer.
The only available memory configuration of the design is 64-bit DDR1 with memory sizes ranging from 16MB to 128MB. Just like NVIDA's TurboCache or ATI's HyperMemory, the card will be able to utilize system memory as graphics memory. However, the price for this is reduced performance. In office systems this will be no issue, so cost can be decreased even further.
Another nice feature is, that the chip dissipates only 7.5 Watts max. so the cooling solution is a small passive heatsink. When asked, XGI confirmed that they do have plans to produce a low-profile version of the card suitable for home theater PCs.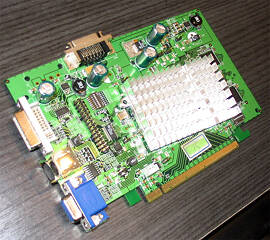 Another chip, the XG45, will be available later this year. It will be able to compete with the X700 from ATI and the 6600 from NVIDIA, again at a lower price.
Targeted clock speeds are up to 450 MHz for both memory and core. This chip will be available in a wide range of configurations ranging from 64-bit 128MB DDR1 to 128-bit 256MB GDDR3. It is also produced in a 130nm process and its eight pipelines will support Shader Model 3.0.
XGI will also be improving their product range in the server market - extreme low power cards with no heatsink at all - and they will also have NVIDIA MXM based solutions of the PCI-Express chips later this year.