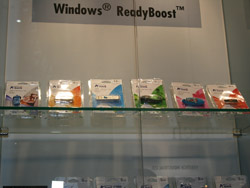 A-DATA offers a lot of different storage devices. They may be best known for their high performance memory, but we want to show you their newest products. There is a large display case with various memory sticks in all shapes and sizes present. The top shelf holds many different USB 2.0 sticks. The first one is a mini USB 2.0 memory stick with 2 GB memory while the last one is an incredibly thin variant with 4 GB. The other sticks come in various shapes and have 8 GB or even 16 GB storage space. The second shelf presents some traditional USB memory sticks, which are all labeled as "Turbo Speed" and should be good performers. There is an "Oriental Elite" memory stick with 120x rating to the left.
The third shelf shows another 16 GB memory stick, a high-performance 4 GB variant to the left. Besides those there is an SDHC combo kit, which consists of a 4 GB SDHC card and a very sleek, white SDHC capable card reader. This is great as you do not have to worry about your old card reader working with the new format. Next to that there is an 8 GB "Show Me Drive" which displays the amount of space available even if there is no power supplied to the drive. The display basically stays in the state last set when it received power. The variant next to it, features finger print security and comes with 4 GB of space. The memory device on the right side also features a display and 2 GB of memory. As you may have noticed, 2 GB is the smallest capacity offered in the new ranges of USB Sticks with a whooping 16 GB being the most. The bottom shelf houses various SD cards. All are of 2 GB size and all have special features. The first SD card actually has a display to show the amount of free space, the second comes with a USB connector, the third is a 2 GB microSD/TransFlash memory card with adapter, while the one all the way to the right is a microSD memory card and comes with a mini USB 2.0 reader - yes it is that tiny.
All the way to the left there is a MiniCube 1 inch drive with 12GB of storage space. As you can see AData has nothing ordinary. They also have official licenses for "The Pirates of the Caribbean" as well as Disney to produce themed memory devices.
A-DATA also has some DDR3 memory up and running. They are even showing off the current timings used. The demonstration unit uses DDR3 1066 MHz with 7-7-7 timings. It is great to see working DDR3 systems already. Let's hope the latency will quickly fall as production ramps up.
Another glass case is filled with all their memory offerings. These are 667 MHz and 800 MHz and will sell in three sizes: 1, 2 & 4 GB. The line-up of notebook memory also ranges between 1 GB and 2 GB with speeds of 533, 667 or 800 MHz. A-DATA also offers memory for Apple desktop and notebooks.
The company is also displaying a 2 GB Kit which is rated for 4-4-4-12 at 800 MHz or 5-5-5-15 at 1000MHz. The right kit can handle 1066 MHz at 5-5-5-15. Both come with EPP as this is becoming a standard for high-end memory.