Introduction
We would like to thank Chieftronic for supplying the review sample.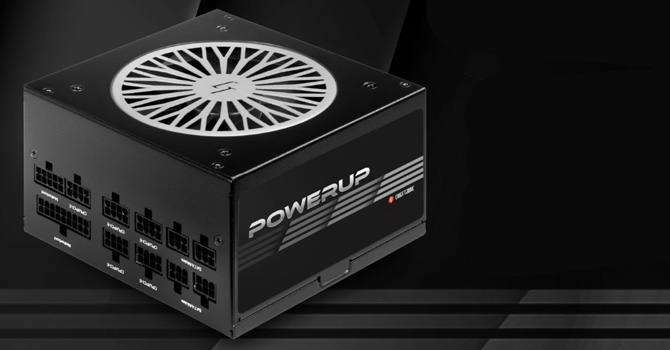 Chieftronic's PowerUp line consists of four members with capacities ranging from 550 W to 850 W. To a keen eye, a look at the model numbers shows that Chieftronic uses the GPX platform by Channel Well Technology (CWT), which I have come across in the DeepCool GamerStorm DQ-M V2L 850 W. Compared to the highly popular CWT GPU design the Corsair RM and RMx are based on (to be more specific, both use modified GPU platforms), the GPX design uses lower-cost parts. On paper, GPX looks better than GPU because of the full-bridge topology, but CWT uses the full-bridge over the half-bridge topology in order to utilize lower-cost primary switching FETs.
The Chieftronic PowerUp 850 W uses a fully modular cable design and has a double ball-bearing fan, which might be noisier than an FDB fan, but is much more tolerant to high operating temperatures. If the operating conditions are harsh, DBB fans are the way to go. Despite the DBB fan, the GPX-850FC manages low to average noise output by using a relaxed fan-speed profile, as well as a semi-passive mode, which unfortunately cannot be deactivated.
At €130 and armed with a five-year warranty, this PSU looks to be the ideal companion for a power-hungry NVIDIA RTX 3080, or an RTX 3090 if you have the money to spend. For our US audience, this PSU is not available in your region. I am not sure if Chieftronic plans to enter the US market any time soon, especially because of all the shipping problems COVID-19 has caused thus far.
Specifications
Chieftronic Power Up 850W
Features & Specifications
Max. DC Output
850 W
PFC
Active PFC
Efficiency
80 PLUS Gold, ETA-A (88%–91%)
Noise
LAMBDA-A (20–25 dBA)
Modular
Yes (fully)
Intel C6/C7 Power State Support
Yes
Operating Temperature
0–50 °C
Protections
Over Voltage Protection
Under Voltage Protection
Over Power Protection
Over Temperature Protection
Over Current Protection
Short Circuit Protection
Cooling
120 mm double ball-bearing fan (D12BH-12)
Semi-passive Operation
No
Dimensions (W x H x D)
150 x 85 x 140 mm
Weight
1.45 kg (3.2 lb)
Compliance
ATX12V v2.53, EPS 2.92
Warranty
5 years
Price at Time of Review (incl. 19% VAT)
€129.90
Chieftronic Power Up 850W
Power Specifications
Rail
3.3 V
5 V
12 V
5 VSB
-12 V
Max. Power
20 A
20 A
70.5 A
2.5 A
0.3 A
110 W
846 W
12.5 W
3.6 W
Total Max. Power
850 W