Introduction
Hang on, didn't we recently review two gaming headsets from Corsair's HS product family? Indeed, we did—the HS60 HAPTIC (
reviewed here
) and HS75 XB Wireless (
reviewed here
) launched in October. They were quickly followed by the third and final addition to this award-winning gaming headset series: the Corsair HS70 Bluetooth. Coming in at $100/€110, the HS70 Bluetooth is the least expensive and most versatile of the bunch in terms of connectivity, which will make it the most attractive gaming headset in Corsair's entire HS lineup for many.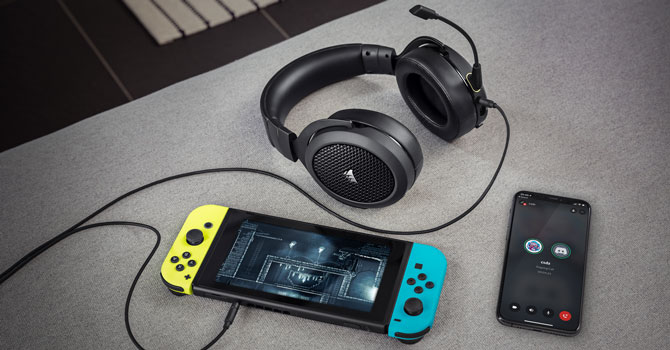 As its name implies, the Corsair HS70 Bluetooth offers Bluetooth connectivity, making it wirelessly pairable with smartphones, tablets, laptops, and other Bluetooth-capable devices. Additionally, it has an analogue 3.5-mm jack plug and a USB-C port. The latter isn't only for charging its built-in battery, but also another way to communicate with your PC if you do want to use analogue or Bluetooth connectivity. Using it via USB makes it fully configurable in iCUE, much like any other Corsair USB gaming headset.
Also worth mentioning is the fact that the HS70 Bluetooth is able to use its Bluetooth, analogue, and USB connections simultaneously. This opens it up to a couple of interesting use cases. For example, you can connect the headset to your PC through USB or your console through the 3.5-mm jack plug while keeping it connected to your phone via Bluetooth in order to be able to answer phone calls without taking the headset off. Perhaps you want to use Discord's mobile app while gaming? No problem—just open it up on your smartphone, connect to your server of choice, and chat away. Another interesting option is to connect it to your Nintendo Switch through the analogue 3.5-mm interface for the game while utilizing the Bluetooth connection to your phone for voice chat in Switch games that don't support it natively. Of course, nothing prevents you from exclusively using the HS70 Bluetooth as a Bluetooth headset, but its wired connectivity is just as important a part of the equation.
In every other respect, the Corsair HS70 Bluetooth is nearly identical to the rest of the HS lineup. You probably already know what that means—it's nicely built, comfortable to wear, and fun to listen to. Let's dig in!
Specifications
50-mm dynamic drivers (neodymium magnet)
32 Ω impedance
20–20,000 Hz frequency response (specified by the manufacturer)
Closed-back, over-ear design
USB, 3.5-mm, and wireless Bluetooth connectivity
Removable unidirectional noise-canceling microphone
Up to 30 hours of battery life
Supplied braided 1.8-meter USB-C and 1.5-meter 3.5-mm jack audio cable
Platform support: PC, PS4, PS5, Xbox One, Xbox Series X, Nintendo Switch, and mobile devices
Weight: 378 g