Introduction
We would like to thank Corsair for supplying the review sample.
The Corsair SF750 is the strongest SFX power supply money can buy today. At 750 W, its power density is ultra-high, capable of supporting a very strong system equipped with power hungry components. Its main competitor is the SilverStone SX700-G, which has 50 W less power output and fails to perform as well in nearly every major way (load regulation, ripple suppression, and transient response).
Thus far, Corsair has had a great cooperation with Great Wall, the manufacturer behind the entire SF line. Before the release of the SF750, the SF450 and SF600 Platinum had been introduced, making the competition feel awkward. With the SF750, Corsair's SFX line is now complete, currently dominating this market in terms of performance while even managing to keep output noise low. High performance in tandem with low noise output is very difficult to achieve, especially in small form factor power supplies.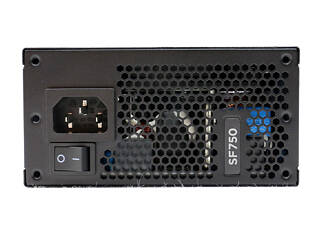 Specifications
Corsair SF750 Platinum Features & Specs
Max. DC Output
750 W
PFC
Active PFC
Efficiency
80 PLUS Platinum, ETA-A (88-91%)
Noise
LAMBDA-A- (25-30 dB[A])
Modular
Yes (fully)
Intel C6/C7 Power State Support
Yes
Operating Temperatures
0–50 °C
Protections
Over Voltage Protection
Under Voltage Protection
Over Power Protection
Over Temperature Protection
Over Current Protection
Short Circuit Protection
Cooling
92 mm Rifle Bearing Fan (NR092L)
Semi-passive operation
Yes
Dimensions
128 mm (W) x 65 mm (H) x 102 mm (D)
Weight
0.9 kg (1.98 lb)
Compliance
SFX, EPS 2.92
Warranty
7 Years
Price at Time of Review (excl. VAT)
$179.99
Besides an 80 PLUS Platinum certification, the SF750 has also been certified by
Cybenetics
, achieving ETA-A and LAMBDA-A- certifications in efficiency and noise respectively.
Corsair SF750 Platinum Power Specs
Rail
3.3V
5V
12V
5VSB
-12V
Max. Power
20A
20A
62.5A
2.5A
0.3A
130W
750W
12.5W
3.6W
Total Max. Power
750W
Cables and Connectors
Modular Cables
Description
Cable Count
Connector Count (Total)
Gauge
In Cable Capacitors
ATX connector 20+4 pin (300 mm)
1
1
16-18AWG
No
4+4 pin EPS12V (400 mm)
2
2
16AWG
No
6+2 pin PCIe (400 mm+100 mm)
2
4
16AWG
No
SATA (100 mm+120 mm+120 mm+120 mm)
2
8
18AWG
No
4-pin Molex (100 mm+120 mm+120 mm)
1
3
18AWG
No
AC Power Cord (1380 mm) - C13 coupler
1
1
16AWG
-
There are two EPS and four PCIe connectors, of which all are capable of handling the unit's full power. The number of peripheral connectors is adequate, and the distance between connectors is satisfactory since this unit will probably be installed into a small chassis.
Corsair should in my opinion also sell a version of this unit with longer cables since a PSU with such high power output can also be used in a larger chassis with more system components because of the included SFX-to-ATX adapter.
Component Analysis
Corsair SF750 Parts Description
General Data
Manufacturer (OEM)
Great Wall
Model Number
RPS0115
Primary Side
Transient Filter
4x Y caps, 2x X caps, 3x CM chokes, 1x MOV, 1x CMD02X
Bridge Rectifier(s)
1x
Inrush Current Protection
NTC Thermistor & Diode
APFC MOSFET
Infineon IPZ60R060C7 (650 V, 22 A @ 100 °C, 0.06 Ohm)
APFC Boost Diode
ROHM SCS306AP (650 V, 6 A @ 135 °C)
Hold-up Cap(s)
Nippon Chemi-Con (420 V, 470 uF, KMZ series, 2000 h @ 105 °C).
Main Switchers
2x 60F2094 (600 V, 15.8 A @ 150 °C, 0.19 Ohm)
Driver IC
Silicon Labs Si8230BD
APFC Controller
Champion CM6502UHHX & CM03AX Green PFC controller
Resonant & PWM Controller
Champion CM6901X
Quasi-Resonant Controller
Infineon 5QR1680AG
Topology
Primary side: Half-Bridge & LLC Resonant Controller
Secondary side: Synchronous Rectification & DC-DC converters
Secondary Side
+12V
6x APower 4N1R8C-A (45 V, 32 A @ 70 °C, 1.8 mΩ)
5V & 3.3V
DC-DC Converters: 4x Infineon PSMN2R0-30YLE (30 V, 100 A @ 100 °C, 2.8 mΩ @ 100 °C)
PWM Controllers: ANPEC APW7159C
Filtering Capacitors
Electrolytics: 1x Nippon Chemi-Con (4 - 10,000 h lifetime @ 105 °C, KY series), 2x Rubycon (3 - 6,000 h lifetime @ 105°C, YXG series)
Polymers: Nippon Chemi-Con (G61B, G8, G84R, G84G, G85F), 6x Nichicon (LG)
Supervisor IC
Infinno IN1S429i-SCG
Fan Controller
PIC16F1824
Fan Model
Corsair NR092L (92 mm, 12 V, 0.22 A, 3950 RPM, Rifle Bearing)
5VSB Circuit
Rectifier
CSD18534 (60 V, 13 A @ 25 °C, 9.8 mOhm)
Step-Down Converter
Texas Instruments TPS54231 (3.5 V - 28 V Input, 2 A)
The Great Wall platform uses high quality parts, including Chemi-Con, Rubycon, and Nichicon caps. The primary side uses a half-bridge topology along with an LLC resonant converter.
On the secondary side, six FETs regulate the +12V rail, while the minor rails are handled by a couple of DC-DC converters. A PIC controller handles the fan-speed profile, allowing for more precise control.