Introduction
We would like to thank Corsair for supplying the review sample.
One of the most affordable currently available branded 650 W power supplies on the market is the Corsair VS650. It is the strongest member of the VS line, which counts six non-modular units in total, and as with all newer VS units, it is made by HEC. The older VS units were based on CWT platforms, but for reasons unknown to me, Corsair decided to switch to HEC, which specializes in manufacturing highly affordable products.
The VS650 is 80 PLUS (Vanilla) and Cybenetics ETA-S certified. In terms of noise output, it is Cybenetics LAMBDA-S++ certified, which means its overall noise output ranges from 30–35 dB[A]. All VS power supplies are supported by a three-year warranty, which is long enough for such highly affordable PSUs. The main difference between a mainstream power supply and a high-end one is the maximum operating temperatures at which the PSU can deliver its full power continuously. The ATX specification recommends 50 C°. While high, a PSU capable of operating reliably at 50 C° will be rock solid at lower temperatures. So, the higher a unit's temperature rating, the better its platform. The VS650 is only rated at 30 C° for continuous maximum power output, which looks low, but is the typical temperature rating for mainstream PSUs. Some even have lower temperature ratings, which is then omitted from the specifications list.
Specifications
Corsair VS650 Features & Specifications
Max. DC Output
600 W
PFC
Active PFC
Efficiency
ETA-S & 80 PLUS
Noise
LAMBDA-S++
Modular
No
Intel C6/C7 Power State Support
Yes
Operating Temperature
0–30 °C
Protections
Over Voltage Protection
Under Voltage Protection
Over Power Protection
Over Temperature Protection
Over Current Protection
Short Circuit Protection
Cooling

120 mm Sleeve Bearing Fan (D12SH-12)

Semi-passive Operation
No
Dimensions
152 mm (W) x 87 mm (H) x 128 mm (D)
Weight
1.9 kg (4.19

lb

)
Compliance
ATX12V v2.31, EPS 2.92
Warranty
3 years
Price at Time of Review (excl. VAT)
$54.99
Corsair VS650 Power Specifications
Rail
3.3 V
5 V
12 V
5 VSB
-12 V
Max. Power
24 A
20 A
52 A
3 A
0.3 A
130 W
624 W
15 W
3.6 W
Total Max. Power
650 W
Cables and Connectors
Modular Cables
Description
Cable Count
Connector Count (Total)
Gauge
In Cable Capacitors
ATX connector 20+4 pin (550 mm)
1
1
18-20AWG
No
4+4 pin EPS12V (610 mm)
1
1
18AWG
No
6+2 pin PCIe (550 mm+110 mm)
1
2
18AWG
No
SATA (440 mm+120 mm+120 mm)
2
6
18AWG
No
SATA (440 mm) / 4-pin Molex (+120 mm+120 mm) / FDD (+120 mm)
1
1 / 2 / 1
18-20AWG
No
AC Power Cord (1380 mm) - C13 coupler
1
1
18AWG
-
With 650 W maximum power output, this PSU could easily handle an EPS and four PCIe connectors, or two EPS and two PCIe connectors. The distance between peripheral connectors is short at 120 mm, and there is no need for the FDD connector.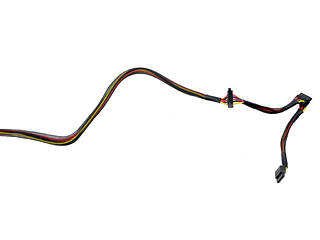 Component Analysis
Corsair VS650 Parts Description
General Data
Manufacturer (OEM)
HEC
PCB Type
Single Sided
Primary Side
Transient Filter
4x Y caps, 3x X caps, 2x CM chokes, 1x MOV, 1x Discharge IC
Bridge Rectifier(s)
2x GBU806 (600 V, 8 A @ 100 °C)
Inrush Current Protection
2x NTC Thermistors
APFC MOSFETs
3x Champion GP18S50G (500 V, 28 A @ 150 °C, 0.19 Ohm)
APFC Boost Diode
1x NXP BYC10-600 (600 V, 10 A @ 78 °C)
Hold-up Cap(s)
1x Teapo (400 V, 330 uF, 2,000 h lifetime @ 85 °C, LH series).
Main Switchers
2x Infineon IPA50R280CE (500 V, 11.4 A @ 100 °C, 0.28 Ohm)
Combo APFC/PWM Controller
Champion CM6800TX
APFC Disconnect IC
Power Integrations SEN012DG
Topology
Primary side: Double Forward
Secondary side: Passive Rectification & Group Regulation (12 V & 5 V tied together, 3.3 V Indy regulated)
Secondary Side
+12V
4x PFC PFR30L60CT SBR (60 V, 30 A)
5V & 3.3V

5 V: 2x MBR30L45CT (45 V, 30 A)

3.3 V: 2x MBR30L45CT (45 V, 30 A)


Filtering Capacitors
Electrolytics: Teapo (1 - 3,000 h lifetime @ 105 °C, SC series), 1x Teapo @ 5VSB (3 - 6,000 h lifetime @ 105 °C, SY series)

Supervisor IC
Weltrend WT7527 (OVP, UVP, OCP, SCP, PG)
Fan Model
Yate Loon D12SH-12 (120 mm, 12 V, 0.3 A, Sleeve Bearing)
5VSB Circuit
Rectifier
1x PFC PFR10L60CT SBR (60 V, 10 A)
Standby PWM Controller
Power Integrations TNY289PG
The platform is provided by HEC/Compucase, which has a lot of experience with budget designs.
The design is outdated, which keeps production cost low.
The secondary side utilizes a group-regulated scheme where the +12V and 5V rails are tied together. With SBRs for the generation of the rails, rectification is passive.
All filtering caps and the bulk cap are provided by Teapo. The SC line belongs to Teapo's mainstream products—their lifetime is short under high temperatures, which is why this power supply is only rated for 30 °C.
The fan uses a sleeve bearing, which is the only option in this price range.