Packaging
CRYORIG's R1 Ultimate comes sealed in a box that measures in at roughly 22.5 cm long, 17.8 cm wide, and 19.4 cm tall. The front features an angled close-up shot of the cooler's top, along with a short paragraph detailing the R1 Ultimate as the "apex of air cooling". On the left side, we find an "R1" in large foil lettering and nothing else. Meanwhile, the back details the specifications for the heatsink and fans and lists all its supported CPU sockets.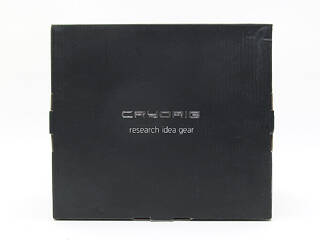 On the right side, you will find a few paragraphs which detail some of the R1 Ultimate's features, such as its MultiSeg mounting system. The top is simple and pleasing, again displaying the CRYORIG name in foil lettering with the words "research idea gear" below.
Contents
Upon opening the box, I was quite pleased to see everything extremely well packaged. The contents are kept neatly arrayed inside a cardboard tray with a sleeve. Meanwhile, the cooler itself is inside another cardboard box below these accessories. Overall, internal packaging is good; however, I would have liked a bit of foam for further protection. Still, users shouldn't need to worry about whether everything will arrive in one piece as the packaging is well-designed all the same. I just happen to like things to be overkill.
The heatsink is massive, and CRYORIG includes two fans and the fan clips for a third fan, be it a slim XT140 or a third XF140, should a user want to improve cooling even further. Overall, everything one would need is included here. The lack of complexity due to the MultiSeg hardware is a nice change of pace. Also shown here is the AM4 upgrade kit for those using or building an AMD Ryzen system - CRYORIG has you covered.
Common parts supplied for mounting include:
6x XF140 fan clips
4x Thumb screws
4x LGA2011 screw pillars
4x Screw pillars
4x Acoustic vibration absorbers
2x XT140 fan clips
2x Intel mounting brackets
2x 140 x 140 x 25 mm fan
1x AMD mounting plate
1x Intel backplate
1x Heatsink
1x User's manual
1x Tube of thermal compound
1x PWM Y-cable
1x Phillips screwdriver
1x LGA775 backplate spacer