Packaging
The ME1 arrives in the same style of box as the previously reviewed ME2 and ME3. It's a rather minimalist-looking package with the usual technical specifications and a render image on it. The box itself is made out of a very thick cardboard material, and the insides are stuffed with thick foam padding, so chances of physical damage during shipping are pretty much eliminated. Contents of the box are plenty with the ME1 itself, a quick start guide, some stickers, a microfibre cleaning cloth, and not one but two sets of extra mouse feet. Dark Project is again exemplary when it comes to extras.
Shape
Does the shape of the ME1 seem familiar? The ODM shell is clearly based on the Zowie EC-series. It's an ergonomic design made for right-handed users, with side buttons only on the left side. The mouse has a well-defined curvature with grooves on parts that need them, which helps with picking up the mouse and maintaining a stable and comfortable grip—the main buttons also feature slight comfort grooves.
This shape will mainly suit palm grippers because of its design—of course, there will be exceptions as everyone has different preferences. There are no unnecessary ledges or uncomfortable parts that stick out on the shell, or a ring or pinky finger rest, which is a love-it or hate-it feature, so excluding it is a safe call.
As for the measurements, the ME1 is about 132.3 mm (5.20") long, which makes it a very long rodent. The width is 70.5 mm (2.76") at the widest part, but the actual width at which it is gripped is narrower, being only about 60 mm (2.36"). It is about 41.8 mm (1.65") high at the tallest point, and the hump is centered. Again, the ME1 has a very nice, renown shape that will mainly suit palm grippers. Because it's such a big mouse, it will in my opinion best suit users with hands larger than 18 cm (7.1").
Here are some extra pictures of the mouse:
Comparisons
Here are some shape/size comparisons with other mice:
Logitech G603
Razer DeathAdder
ASUS Gladius II Origin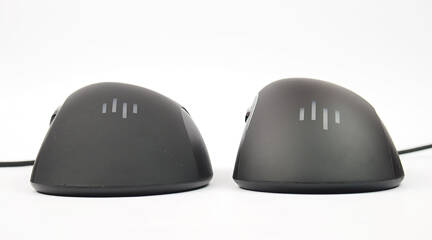 Dark Project ME2