Introduction
Elgato, owned by Corsair, has been in the live-streaming business for over eight years. They're arguably best-known for the Stream Deck product lineup, but for many users, they're also a go-to choice for internal and external capture cards, as well as camera production cards, the Cam Link 4K and Cam Link Pro. On top of that, Elgato offers green screens, mounting solutions, lighting systems, and, as of late, two USB microphones with built-in digital mixers aimed specifically at content creators. These are the Wave:1 (
reviewed here
) and Wave:3 (
reviewed here
). With all that in mind, it was only a matter of time until Elgato expanded its portfolio with a full-fledged webcam. Its name is the Elgato Facecam, and it comes in at $200 and primarily targets live-streaming enthusiasts who aren't ready to go down the digital camera route in terms of price and complexity, but would still like to look good in front of their audience.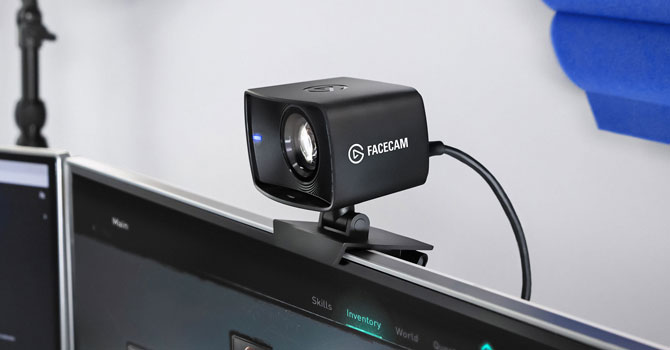 While the Elgato Facecam might also interest you if you're looking for a capable webcam for your video conferencing needs, be aware that it isn't specced to be used that way; it doesn't come with an integrated microphone and doesn't have auto-focus, or features like automatic face tracking. It does, however, come with a Sony STARVIS CMOS sensor and the Elgato Prime Lens, an 8-element all-glass unit with an f/2.4 aperture and focal length of 24 mm (full-frame equivalent). The specified focus range of the Elgato Prime Lens is 30–120 cm (11.8–47.2 inches), with the diagonal field of view spanning from 83.2° (1x zoom) to 24.4° (4x digital zoom). The Facecam comes with a detachable USB-C cable and requires a USB 3.0 connection to capture an uncompressed 1080p60 UYVY-encoded video. It also offers a couple of unique features, such as the onboard flash memory to save preferred settings, which makes it streaming software and even computer agnostic. In other words, once you save your optimal Facecam settings, the camera will always default to them no matter where you plug it in and which streaming software (OBS Studio, Wirecast, XSplit Broadcaster, etc.) you add it to as a video source. Perhaps more importantly, Elgato combines it with the Camera Hub software, where we can fine-tune many of its settings and even get a direct ISO readout—a first for any webcam as far as I'm aware.
The asking price of $200 is high, so let's dissect the features of the Elgato Facecam one by one to find out if it offers enough to justify its cost. We'll also compare it to the Logitech Brio, a fan-favorite pick as far as high-quality webcams go that is priced similarly.
Specifications
Supported Resolutions (uncompressed): 1080p60, 1080p30, 720p60, 720p30, 540p60, and 540p30
Sensor: Sony STARVIS CMOS
Optics: Elgato Prime Lens (all-glass, 8 elements, fixed focus)
Focus Range: 30–120 cm (11.8–47.2 in.)
Aperture: f/2.4
Focal Length: 24 mm (full-frame equivalent)
Field of View: 82° (diagonal)
Connection: USB 3.0 Type-C (detachable cable)
Privacy Cover: Yes
Windows Hello support: No
Mounting: supplied monitor stand, 1/4" thread
Dimensions and Weight: 79 x 48 x 58 mm, 96 g (without mount)
Compatibility: Microsoft Windows and Apple macOS