Introduction
Reviews have been written, benchmarks run, and graphs plotted. The Ryzen 3000 series has lived up to the hype in almost every way. There is finally real competition in the mainstream CPU marketplace, and with competition comes greater consumer choice. One of the biggest debates that is still ongoing with this launch is which chipset to buy. Do you need X570?
Unlike Intel, AMD has made a commitment to supporting the AM4 socket over multiple CPU generations. So far, the team in red has held to that promise, and the new Zen 2 processors are widely supported on older-generation motherboards. While this is great for consumers, it also creates more complexity as more choice inevitably must. Do you need a new X570 motherboard? Due to the cost of the new chipset, the new generation of boards are more expensive feature for feature than the last two generations. This is largely due to PCIe 4.0, a costly and complex feature to implement.
In the graphics department, no card on the market has saturated even PCIe 3.0 yet, at least in the x16 configuration. The largest immediate benefit is with high-speed storage. NVMe drives in RAID configurations can and will take advantage of the extra bandwidth to push never before seen sequential read and write speeds. With your average game, even the switch from SATA to NVMe can be hard to notice, let alone to an even faster and more expensive RAID array. This is more relevant for content creation and media production, where high-speed storage can save significant time and therefore money, which is further bolstered by the near-HEDT core counts on the high-end Ryzen 3000 CPUs. Of course, graphics cards will eventually catch up as well, so for the discerning gamer who only upgrades every three to five years, the new standard could prove a good investment.
With the Gigabyte X570 AORUS Pro WiFi, Gigabyte is aiming for the middle ground between high-end mainstream and budget X570 offerings. The Gigabyte X570 AORUS Pro WiFi features the brand-new WiFi 6 (802.11ax), a sophisticated 14 phase VRM, an integrated rear I/O shield, and an elegant thermal solution. Has Gigabyte hit their mark? Is the Gigabyte X570 AORUS Pro WiFi competitive in this unprecedented wave of new AMD boards?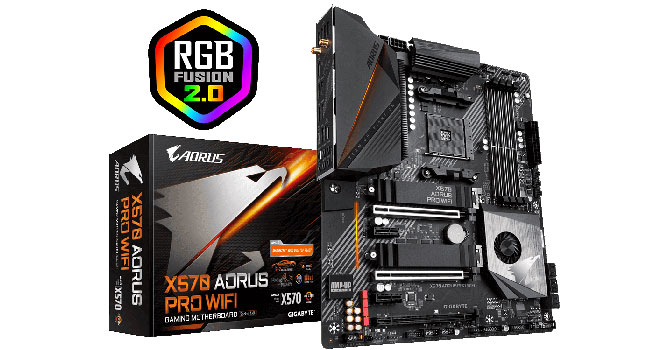 Specifications
Specifications
CPU Support:
AMD AM4 socket Ryzen 2000 and 3000 series processors
Power Design:
CPU Power: 14 phase
Memory Power: 1 phase
Chipset:
AMD X570
Integrated Graphics:
Dependent on installed CPU
Memory:
4x DIMM, Support Dual Channel DDR4-3200 MHz
BIOS:
Dual AMI UEFI BIOS
Expansion Slots:
3x PCIe 4.0 x16 slots (x16/x0/x4 or x8/x8/x4)
2x PCIe 4.0 x1 slots
Storage:
6x SATA 6 Gb/s port
2x M.2 port (SATA3/PCIe 4.0 x4)
Networking:
1x Intel I211AT
1x Intel 802.11ax WiFi
Rear Ports:
1x HDMI port
2x SMA antenna connectors
1x Optical SPDIF out port
1x LAN (RJ45) port
1x USB 3.1 (Gen2) Type-C port
2x USB 3.1 (Gen2) Type-A port
3x USB 3.1 (Gen1) ports
4x USB 2.0 ports
5x 3.5 mm Audio jacks
Audio:
1x Realtek ALC1220-VB Codec
Fan Headers:
7x 4-pin
Form Factor:
ATX Form Factor: 12.0 in x 9.6 in, 30.5 cm x 24.4 cm
Exclusive Features:

Support for APP Center
RGB Fusion
EasyTune
Q-Flash Plus
Q-Flash
Xpress Install
PCIe steel slots
USB 3.1 Gen2 Type-A and Type-C
Supports AMD three-way CrossFire
Supports NVIDIA 2-way SLI