Introduction
Head-Direct is an online headphone store which sells just about everything you need in order to get a serious listening rig. Head-Direct carries a lot of interesting asian brands. Head-Direct was until recently just a headphone reseller, but that has changed now. With the RE2 earphone, Head-Direct is entering a highly competitive market. The RE2 earphones are made for sound enthusiasts and audiophiles. They look like a regular in-ear, but the sound is anything but regular.
Where most in-ear producing companies spend a lot of time styling their products, Head-Direct puts more emphasis on the unique sound characteristics of their in-ears. The RE2 is the result of Head-Direct's dedication to providing excellent sound quality at a reasonable price. RE2 is a mid-end earphone which is aimed at audio enthusiasts looking for a pair of earphones that sound good and do not cost a fortune.
Right now Head-Direct are putting the final touches to the RE2's packing and bundle. One thing that is certain is that the earphones will look and sound like the sample I got for review. Head-Direct is still researching which eartips to supply with the earphones, so the tips selection I got with them might differ a bit from that of the final product.
The Package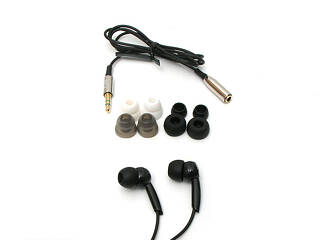 At the moment Head-Direct still have not decided what type of package the RE2s will ship in. One thing is certain though and that is that the tip selection will be bigger at launch. The RE2 sample I got came in a normal brown cardboard box. Even though it is a preproduction sample the sound quality is the same as the final product.
The earphones come with a normal selection of tips. Besides that the RE2s ship with an extra mini-to-mini extension cord. This is really nice and allows tall guys like myself to carry a portable player in my pocket. The RE2s use a dynamic driver and have a fairly large driver housing. Even though it is a normal dynamic based earphone it is clear that it is designed with sound quality in mind. No special design features or anything like that. These earphones look quite dull and there is really nothing in the design that suggests that this is indeed a high performance in-ear headphone. The RE2s emphasize sound quality over everything else, it is nice to see that a company has decided to make an earphone that is aimed at the audio enthusiast.
The Head-Direct RE2s are actually pretty big considering that they are earphones. Design-wise they resemble a normal earbud with a slimmer head. The cable exits the body of the earphone through a long stiff semi oval rod. Compared to the size of the main portion of the body the cable guide looks kind of awkward. It is definitely not the smallest or best looking IEM I have ever laid my eyes on, and it looks just a tad too plastic like compared to many other in-ears. Of course all IEMs are primarily made of plastic and it is really just a design decision if you want a textured surface or a plain plastic finish.