Introduction
I would like to thank
ASUS
for providing the review samples.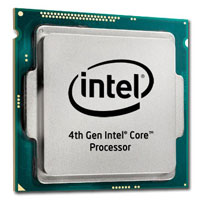 Intel
, the world's largest semiconductor company, released a new series of CPUs called Haswell. Intel's Haswell series requires a Socket 1150 motherboard. The new socket succeeds Intel's Socket 1155 after nearly 30 months.
Intel is again using the
K
suffix to mark unlocked processors that give the user the ability to change the multiplier to values higher than the x39 of non-K processors. The new processor series will include two CPUs: the Core i5-4670K and Core i7-4770K.
We had the chance to test and compare the upcoming Core i7-4770K to the two unlocked processors of the Ivy Bridge series.
Haswell Models
Like previously, the main differences between these two unlocked processors are the L3 cache size, which is 33% smaller for the i5-4670K, and the addition of Intel's Hyper-Threading technology, which the i7-4770K has as well.
Hyper-Threading creates one more virtual core for each physical core a processor has, which increases the process of multi-tasking programs.