Introduction
The GeForce GTX 970 is the smaller brother to NVIDIA's new GeForce GTX 980, of which both are based on the Maxwell architecture using the GM204 graphics processor. The GTX 970, much like its predecessors, the GTX 770 and GTX 670, is destined to be an underrated card decking out lower shelves under the GTX 980's shadow. Steam Hardware survey trends would also agree with our guess that this card will end up selling more between the two in volume to probably even fetch NVIDIA more revenue overall.
The GeForce GTX 970 is carved out of the 28 nm GM204 silicon the GTX 980 is based on, by disabling three of sixteen streaming multiprocessors with 128 CUDA cores each. The resulting shader count is 1,664. Texture memory units are, proportionately, down to 104, as are clock speeds, although they stay well above the 1 GHz mark. The ROP count stays at a whopping 64, with a 256-bit memory bus width and a standard memory total of 4 GB.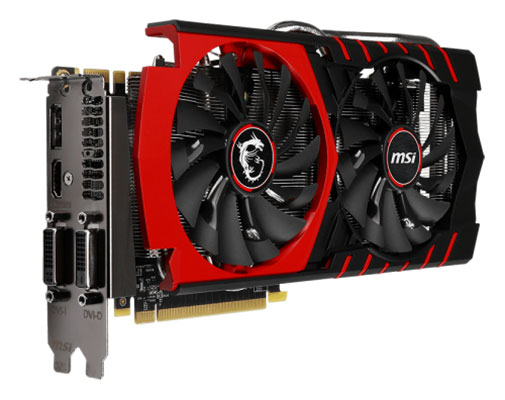 MSI is one of the leading players on the graphics card market, and their GTX 970 Gaming, reviewed today, has been available since NVIDIA's launch. We previously tested the
MSI GTX 980 Gaming
, and are today finally taking a look at the GTX 970 Gaming.
MSI's GTX 970 Gaming is a fully customized variant of the GTX 970 with a new dual-fan MSI TwinFrozr cooler and a custom board design with new voltage-regulation circuitry. The card is also overclocked to a base clock of 1114 MHz out of the box.
The card is currently available online for $350, which is a reasonable price as it is in-line with similar offerings.
GTX 970 Market Segment Analysis
Radeon
R9 280X
GeForce
GTX 680
GeForce
GTX 780
Radeon
R9 290
GeForce
GTX 970
MSI GTX
970 Gaming
Radeon
R9 290X
Radeon
HD 7990
GeForce
GTX Titan
GeForce
GTX 780 Ti
GeForce
GTX 980
Shader Units
2048
1536
2304
2560
1664
1664
2816
2x 2048
2688
2880
2048
ROPs
32
32
48
64
64
64
64
2x 32
48
48
64
Graphics Processor
Tahiti
GK104
GK110
Hawaii
GM204
GM204
Hawaii
2x Tahiti
GK110
GK110
GM204
Transistors
4310M
3500M
7100M
6200M
5200M
5200M
6200M
2x 4310M
7100M
7100M
5200M
Memory Size
3072 MB
2048 MB
3072 MB
4096 MB
4096 MB
4096 MB
4096 MB
2x 3072 MB
6144 MB
3072 MB
4096 MB
Memory Bus Width
384 bit
256 bit
384 bit
512 bit
256 bit
256 bit
512 bit
2x 384 bit
384 bit
384 bit
256 bit
Core Clock
1000 MHz
1006 MHz+
863 MHz+
947 MHz
1051 MHz+
1114 MHz+
1000 MHz
1000 MHz
837 MHz+
876 MHz+
1126 MHz+
Memory Clock
1500 MHz
1502 MHz
1502 MHz
1250 MHz
1750 MHz
1750 MHz
1250 MHz
1500 MHz
1502 MHz
1750 MHz
1750 MHz
Price
$205
$340
$350
$230
$330
$350
$310
$410
$1000
$400
$550