Introduction
We would like to thank Caseking.de for supplying the review sample.
Gaming chairs have drawn a lot of attention within these past few years since gaming comfortably has become a more and more prevalent theme. More companies are also making their way into the gaming chair market sooner or later in an attempt to meet the demands of regular and enthusiast gamers. Nitro Concepts is a fairly new company since it was established in 2015. Despite only being a few years old, it has thus far introduced six different lines of chairs with the help of its lively German design team. Experienced gamers and textile industry veterans both have taken their knowledge of ergonomics to conceptualize and bring to market comfortable chairs for all kinds of gamers. Nitro Concepts' self-proclaimed goal is to make it to the very top on the back of taking any and all user feedback seriously.
The S300 uses that almost omnipresent bucket seat design and integrates basic ergonomics at a low price. It comes in eight different color combinations. Notwithstanding its affordable price tag, the S300 differentiates itself in a couple of ways that make it even more alluring when compared to other chairs with a similar price tag. This chair is covered with fabric, and its sitting surfaces is wide enough despite raised edges. The steel frame and class 4 gas lift allow it to support someone with a weight of up to 135 kg (297.62 lb), and the S300 is also certified with a DIN EN 1335 German office chair certification, which gives German companies a "green light" to use this chair in their offices. According to Nitro Concepts, not many "gaming" chairs are able to obtain this certification.
Nitro Concepts S300
Features & Specs
Model Number:
NC-S300-BW
Main Color:
Black
Accent Color:
Radiant white
Stitching Color:
White
Upholstery Material:

Fabric

Logo Color:

White stitching & black engraving

Seat's Width:
57 cm (22.44 ")
Seat's Width (point of contact):
47 cm (18.50 ")
Seat's Depth:

56 cm (22.047 ")

Seat's Depth (at point of contact):

47 cm (18.50")

Seat's Base Height (from the floor):

48 - 61 cm (18.89 " –24.015 ")

Total Height (with base):

128 – 140 cm (50.39 " –55.11 ")

Frame Material:

Steel

Width of Backrest (shoulder level):

53 cm (20.86 ")

Width of Backrest (pelvis level):

56 cm (22.047 ")

Backrest's Height:

87 cm (34.25")

Adjustable Backrest:

90 - 135 degrees

Lumbar & Neck Support:

Yes (two pillows are provided)

Armrests Adjustability:
3D Adjustable
Armrest's Width:
9,5 cm (3.74")
Armrest's Depth:
25,5 cm (10.03")
Distance Between Armrests:
50 cm (19.68 ")
Gas Lift:
Class 4
Adjustable Tilt Resistance:
Yes
Rocking Mechanism:
Yes (14 degrees max)
Maximum Weight (user):

135 kg (297.62 lb)
Base Material:

Nylon

Warranty:
2 years
Price at Time of Review (excl. VAT):
$240
Packaging
When it comes to chair packages, one thing is for sure: they are huge. So, when the courier told us that a huge package was about to arrive, we immediately started making room for another chair. The S300 package's dimensions are 88 cm x 68 cm x 38 cm (34.64 x 26.77 x 14.96 ") and its weight is 27.5 kg (60.62 lb). As you can imagine, moving this package around is a job for two people. The package is brown, but has a black stripe down the middle. The S300 is depicted on both the front and rear, along with the company's name and logo and the chair's model series. Basic information on the product inside has also been put on both sides. Some scratches are visible, especially on top, which means that the carton box was put through a rough time by the carrier.
Contents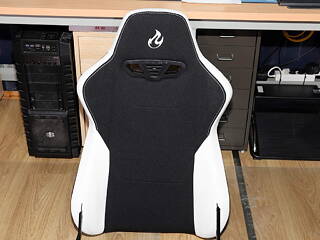 All contents are well protected with plastic sheets and extra foam.
The bundle includes the following:
• Chair's backrest
• Chair's base with its armrests (2x) pre-installed
• Chair's five-star base
• Tilt mechanism/height adjustments mechanism
• Grade class 4 gas lift
• Hydraulic system-/dust-cover shroud
• Caster wheels (5x)
• Side covers (2x)
• Neck pillow
• Lumbar-support pillow
• An illustrated user's manuals (single page)
• Allen key (1x)
• Bolts with washers & springs (4x)
• Bolts (2x)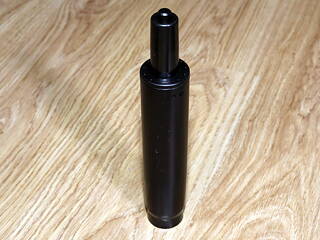 The gas lift and its dust cover.
The provided instructions.