Introduction
The Palit GeForce RTX 3080 Ti GamingPro is the company's premium custom-design RTX 3080 Ti offering, letting gamers who know what to expect from this GPU simply install and get gaming. Within Palit's product stack, the GamingPro is positioned a notch below its coveted GameRock brand for enthusiasts. By itself, the RTX 3080 Ti is NVIDIA's new flagship gaming graphics product, replacing the RTX 3080 from this distinction. The RTX 3090 is marketed as a halo product, with its large video memory even targeting certain professional use cases. The RTX 3080 Ti has the same mandate as the RTX 3080—to offer leadership gaming performance at 4K UHD with maxed out settings and raytracing.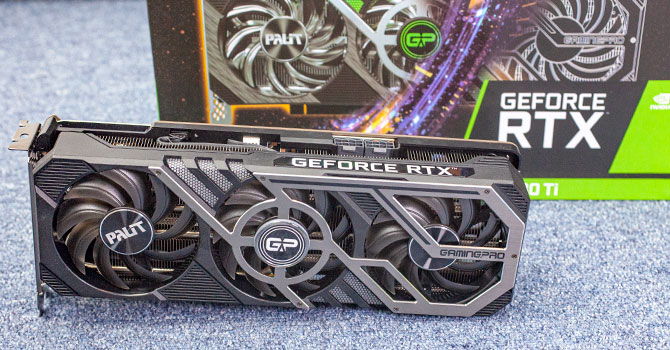 The GeForce RTX 3080 Ti story likely begins with AMD's unexpected return to the high-end graphics segment with its Radeon RX 6800 series and RX 6900 XT "Big Navi" graphics cards. The RX 6900 XT in particular has managed to outclass the RTX 3080 in several scenarios, and with its "XTXH" bin, even trades blows with the RTX 3090. The GeForce RTX 3080 Ti NVIDIA developed is to fill exactly this performance gap between the two top Amperes—the RTX 3080 and RTX 3090.
The RTX 3080 Ti is based on the same 8 nm GA102 GPU as the other two top cards from NVIDIA's lineup, but features many more CUDA cores than the RTX 3080, at 10,240 vs. 8,704, and, more importantly, maxes out the 384-bit wide memory bus of this silicon. NVIDIA endowed this card with 12 GB of memory. Other key specifications include 320 Tensor cores, 80 RT cores, 320 TMUs, and 112 ROPs. The memory ticks at the same 19 Gbps data-rate as the RTX 3080, but the wider memory bus means that the total bandwidth has increased to 912 GB/s.
Palit adds value to the RTX 3080 Ti by pairing it with its TurboFan 3.0 triple-slot, triple-fan cooling solution that has plenty of RGB bling to satiate gamers. The cooler is longer than the PCB itself, so airflow from the third fan goes through the card and out holes punched into the metal backplate. The card runs at reference clock speeds of 1665 MHz and is officially priced at the NVIDIA $1200 baselines price for the RTX 3080 Ti, making it more affordable than the other custom designs we're testing today. In this review, we tell you if this card is all you need if you have your eyes on an RTX 3080 Ti.
GeForce RTX 3080 Ti Market Segment Analysis
Price
Cores
ROPs
Core
Clock
Boost
Clock
Memory
Clock
GPU
Transistors
Memory
RTX 3060 Ti
$1300
4864
80
1410 MHz
1665 MHz
1750 MHz
GA104
17400M
8 GB, GDDR6, 256-bit
RX 6700 XT
$1000

2560
64
2424 MHz
2581 MHz
2000 MHz
Navi 22
17200M
12 GB, GDDR6, 192-bit
RTX 2080 Ti
$1400
4352
88
1350 MHz
1545 MHz
1750 MHz
TU102
18600M
11 GB, GDDR6, 352-bit
RTX 3070
$1300
5888
96
1500 MHz
1725 MHz
1750 MHz
GA104
17400M
8 GB, GDDR6, 256-bit
RX 6800
$1400
3840
96
1815 MHz
2105 MHz
2000 MHz
Navi 21
26800M
16 GB, GDDR6, 256-bit
RX 6800 XT
$1700
4608
128
2015 MHz
2250 MHz
2000 MHz
Navi 21
26800M
16 GB, GDDR6, 256-bit
RTX 3080
$1500
8704
96
1440 MHz
1710 MHz
1188 MHz
GA102
28000M
10 GB, GDDR6X, 320-bit
RTX 3080 Ti
$2000
MSRP: $1200
10240
112
1365 MHz
1665 MHz
1188 MHz
GA102
28000M
12 GB, GDDR6X, 384-bit
Palit RTX 3080 Ti
GamingPro
$2000
MSRP: $1200
10240
112
1365 MHz
1665 MHz
1188 MHz
GA102
28000M
12 GB, GDDR6X, 384-bit
RX 6900 XT
$2100
5120
128
2015 MHz
2250 MHz
2000 MHz
Navi 21
26800M
16 GB, GDDR6, 256-bit
RTX 3090
$2900
10496
112
1395 MHz
1695 MHz
1219 MHz
GA102
28000M
24 GB, GDDR6X, 384-bit