Introduction
AMD announced its first new desktop graphics product for the year, the Radeon HD 7790. The company recently made it clear to us that it won't be introducing a new GPU family any time soon, at least not before October, but that doesn't mean it can't do patchwork to its existing product stack. The company seems least bothered with NVIDIA's recent GTX Titan Launch and finds that its "Never Settle Reloaded" bundles give its products an edge over NVIDIA's offerings, and with a bouquet of game titles under development that are optimized for its GPUs, things look like smooth sailing. In all the noise, AMD conveniently neglected the sub-$200 market.
The $100-200 market segment is a particularly high-volume one. AMD's current offerings include the Radeon HD 7850 1 GB around $179, the Radeon HD 7770 GHz Edition at $109, and practically nothing in between, unless you want to buy near-EOL new old-stocks of previous-generation AMD offerings such as the Radeon HD 6870. NVIDIA targeted this gap with its GeForce GTX 650 Ti aptly priced at $149 (now $139). The HD 7770 GHz Edition may convincingly beat the GTX 650 (non-Ti), but is not powerful enough to compete with the GTX 650 Ti. Playing current games at 1080p using the HD 7770 is asking for much.
AMD finally got down to do the patchwork, but may have realized that its 2.8 billion-transistor "Pitcairn" GPU can't be sold at price points lower than what the HD 7850 1 GB commands, and it could certainly not offer any cushioning for further price-cuts. AMD's solution? Build "Bonaire," a spanking new ASIC with just 2.08 billion Transistors, but a clever component layout. The chip allows AMD to price the Radeon HD 7790 at exactly $149, with room for future price-cuts.
Built on the 28 nm silicon fab process, Bonaire's component hierarchy has more in common with "Pitcairn" and "Tahiti" than with "Cape Verde," although all four are based on AMD's Graphics CoreNext micro-architecture. It features 14 compute units, which work out to 896 stream processors, two independent geometry engines, and two rasterizers. In comparison, Cape Verde may have 10 compute units (640 stream processors), but just the single geometry engine and rasterizer. AMD's approach with Bonaire may yield dividends with tessellation performance, so enabling tessellation shouldn't tax the GPU as much. AMD didn't widen the memory bus any further than 128-bit, but took advantage of falling 7 GT/s chip prices to clock the memory at 6.00 GHz (GDDR5 effective), which yields 96 GB/s of memory bandwidth (a 33% increase). The core remains at 1.00 GHz, but is augmented with an improved dynamic clock technology.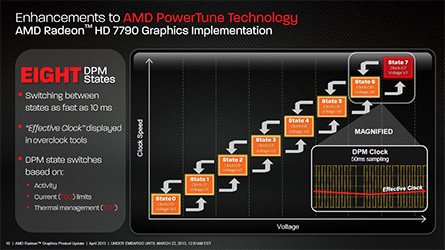 The new dynamic clock technology, which AMD no longer refers to as "boost," promises higher sustained clock speeds and better energy efficiency. The core clock speed mentioned by AMD in its specs sheets, 1.00 GHz, is the GPU's maximum (unless you manually overclock), which most applications shouldn't have a problem accessing. An improved dynamic-clock algorithm gauges graphics processing load, power limits, and temperatures at a higher polling rate of 10 ms, switching the clock speed, as needed, between 8 power states.
In this review, we're testing PowerColor's implementation of the Radeon HD 7790 featuring a custom-designed dual-fan cooler and factory-overclocked speeds of 1075 MHz core. Memory is not overclocked. PowerColor is not asking a premium for their card; it's sold at AMD's suggested reference design retail price of $149.
Radeon HD 7790 Market Segment Analysis
Radeon
HD 6850
Radeon
HD 7770
GeForce
GTX 460
GeForce
GTX 650 Ti
GeForce
GTX 560
Radeon
HD 6870
Radeon
HD 7790
PowerColor Radeon
HD 7790
GeForce
GTX 560 Ti
Radeon
HD 6950
GeForce
GTX 570
Radeon
HD 6970
Radeon
HD 7850
GeForce
GTX 660
Radeon
HD 7870
Shader Units
960
640
336
768
336
1120
896
896
384
1408
480
1536
1024
960
1280
ROPs
32
16
32
16
32
32
16
16
32
32
40
32
32
24
32
Graphics Processor
Barts
Cape Verde
GF104
GK106
GF114
Barts
Bonaire
Bonaire
GF114
Cayman
GF110
Cayman
Pitcairn
GK106
Pitcairn
Transistors
1700M
1500M
1950M
2540M
1950M
1700M
2080M
2080M
1950M
2640M
3000M
2640M
2800M
2540M
2800M
Memory Size
1024 MB
1024 MB
1024 MB
1024 MB
1024 MB
1024 MB
1024 MB
1024 MB
1024 MB
2048 MB
1280 MB
2048 MB
2048 MB
2048 MB
2048 MB
Memory Bus Width
256 bit
128 bit
256 bit
128 bit
256 bit
256 bit
128 bit
128 bit
256 bit
256 bit
320 bit
256 bit
256 bit
192 bit
256 bit
Core Clock
775 MHz
1000 MHz
675 MHz
925 MHz
810 MHz
900 MHz
1000 MHz
1075 MHz
823 MHz
800 MHz
732 MHz
880 MHz
860 MHz
980 MHz+
1000 MHz
Memory Clock
1000 MHz
1125 MHz
900 MHz
1350 MHz
1002 MHz
1050 MHz
1500 MHz
1500 MHz
1002 MHz
1250 MHz
950 MHz
1375 MHz
1200 MHz
1502 MHz
1200 MHz
Price
$135
$120
$140
$140
$170
$170
$150
$150
$200
$170
$250
$380
$180
$215
$220