Introduction
AMD's Radeon R9 290X is built on the company's new Hawaii GPU, the first truly new high-end graphics chip from the company in a very long time (21 months). Using 6.8 billion transistors, the GPU is built on a 28 nanometer process at TSMC, Taiwan; it features 2816 shaders and 64 ROPs connected to 4 GB of memory using a 512-bit wide memory bus.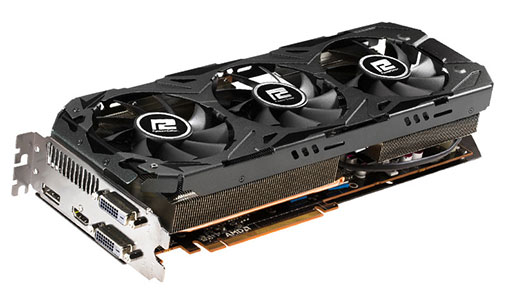 We are reviewing the PowerColor R9 290X PCS+ today. It comes with a powerful triple-slot, triple-fan cooler. It also includes a 50 MHz overclock on the GPU and a 100 MHz overclock on memory, which makes it the highest clocked custom design R9 290X you can buy at this time (together with the ASUS R9 290X DC2 that runs the same clocks).
Price-wise, PowerColor expects the card to cost around $700, which is inline with other custom cards on the market at this time.
Radeon R9 290X Market Segment Analysis
HD 7970
GHz Ed.
GeForce
GTX 680
GeForce
GTX 780
Radeon
R9 290
Radeon
R9 290X
PowerColor
R9 290X PCS+
Radeon
HD 7990
GeForce
GTX Titan
GeForce
GTX 780 Ti
GeForce
GTX 690
Shader Units
2048
1536
2304
2560
2816
2816
2x 2048
2688
2880
2x 1536
ROPs
32
32
48
64
64
64
2x 32
48
48
2x 32
Graphics Processor
Tahiti
GK104
GK110
Hawaii
Hawaii
Hawaii
2x Tahiti
GK110
GK110
2x GK104
Transistors
4310M
3500M
7100M
6200M
6200M
6200M
2x 4310M
7100M
7100M
2x 3500M
Memory Size
3072 MB
2048 MB
3072 MB
4096 MB
4096 MB
4096 MB
2x 3072 MB
6144 MB
3072 MB
2x 2048 MB
Memory Bus Width
384 bit
256 bit
384 bit
512 bit
512 bit
512 bit
2x 384 bit
384 bit
384 bit
2x 256 bit
Core Clock
1050 MHz
1006 MHz+
863 MHz+
947 MHz
1000 MHz
1050 MHz
1000 MHz
837 MHz+
876 MHz+
915 MHz+
Memory Clock
1500 MHz
1502 MHz
1502 MHz
1250 MHz
1250 MHz
1350 MHz
1500 MHz
1502 MHz
1750 MHz
1502 MHz
Price
$470
$400
$480
$500
$600
$700
$900
$1000
$680
$1000