Packaging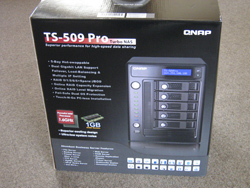 The box is just like any other, large enough to fit the item and full of pictures and specs in several languages.
The TS-509 is seated in a plastic bag between Styrofoam pieces. Between the Styrofoam is enough place for a small cardboard box with accessories.
Inside the box are a few required items; keys to lock the hard drives in place, screws to mount the hard drives on their brackets, one european power cable, a short CAT5 network cable, a software CD and a quick installation guide.
The unit
The device itself is what we all really care about. It has a stylish design and unlike its predecessors is completely black. Personally, I like black.
On the front we find the five drive bays, which can each be locked into place. There are LEDs for each disk and several for power, LAN ports, etc. The only really new thing is the display, as previous models did not have one. The display allows you to set basic network settings without the use of a PC.
Apart from the front USB port, all expansion options are found on the back. The total (including front) amount of USB ports has been increased to five. The eSATA port from the TS-109 is back and we have two covered connectors which we aren't supposed to use. These turn out to be a serial port and a VGA output, more on those later. Besides that we have two Gigabit Ethernet connectors, these (or at least one of them) are of course the most important connectors.