Introduction
Razer has always been known to produce some of the best mice on the market. They established their reputation with the Razer Diamondback series mice, which are some of the best performing mice aimed at medium to high sensitivity gamers. Razer's slogan has always been "For Gamers. By Gamers". It says it all in my opinion.
Every product that Razer has put on the market, after the horrible "Viper", has been of superior quality and performance.
Razer has the reputation of always trying to push the envelope when developing gaming gear and that is exactly what they have done with the Razer Barracuda HP-1 headphone, featuring true 5.1 surround sound through 8 independent audio drives. Because the Barracuda is a native 5.1 headset you'll need a 5.1 or 7.1 sound card in order for it to work. Now let's see just how this special headset performs.
The Package
The Barracuda HP-1 ships in a cardboard box. It opens up and so that the buyer can inspect the headset for any damages. The headset itself is further protected, because it sits in a small plastic casing inside the cardboard box.
As you can see from the images above, the headset is really well protected and therefore I don't think that any harm will come to it during shipping.
On the back of the package are some specifications for the headset and a list of features.
The headset also comes with some extras which include some free subscriptions to various gaming sites. Razer has even been so kind as to include a quick setup guide for those who haven't got the Barracuda AC-1 sound card. This is nice because it's a bit difficult to hook up a 5.1 audio system if you don't know the meaning of the cord colors.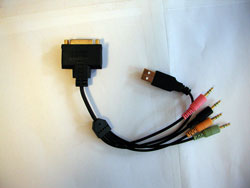 Because the headset has native HD-DAI (red. special connector which Razer uses on their sound cards) you have to use a converter-cable in order to transform this special connector into standard mini-jacks and a USB-cable for power to the built-in amplifier. Razer has also included a USB-patch cable so that you can connect the headset to a USB-port even if your motherboard has an odd backpanel layout.
Specifications
8 Discrete Drivers: 6 for Mid-High Frequency, 2 for Bass.
Individual Channel Volume Control / 1 Master Volume Control.
Detachable Microphone.
6 Channel Analog Inputs.
Eight Amplifiers contained within its volume control units.
Razer HD-DAI™ (High Definition-Dedicated Audio Interface).
99% Oxygen-Free Cable.
Frequency Response: 1.50 Hz ~ 20 000Hz
Impedance
1.a. Front Speaker : 64ohm b. Rear Speaker : 32ohm c. Centre Speaker: 64ohm d. Sub-Woofer : 8ohm
Total RMS Power Rating: 330mWatts
Cable Length: 2 meter
Connector plug: Razer HD-DAI™
As you can see from the specifications this headset is anything but ordinary with its 8 audio drives, detachable microphone, and amplifier!
The cord-controller can manipulate all of the four audio drive pairs.