Introduction
Today is the launch of the long anticipated AMD Radeon HD 4870 X2. This card features two RV770 graphics processors on a single PCB. The RV770 has been used on the HD 4850 and HD 4870 in the past. Another product announced today is the Radeon HD 4850 X2. The HD 4870 X2 uses GDDR5 memory, while the 4850 variant uses GDDR3. Compared to the single GPU designs, both X2 cards feature twice the available video memory per GPU. The HD 4870 X2 has 2 GB of GDDR5 - 1 GB per GPU. AMD is positioning their HD 4870 X2 as "the fastest graphics card on the planet" - which is reflected in the price of $549.
Sapphire's HD 4870 X2 follows the AMD reference design specifications to the letter, the only difference is the Sapphire sticker on the cooler.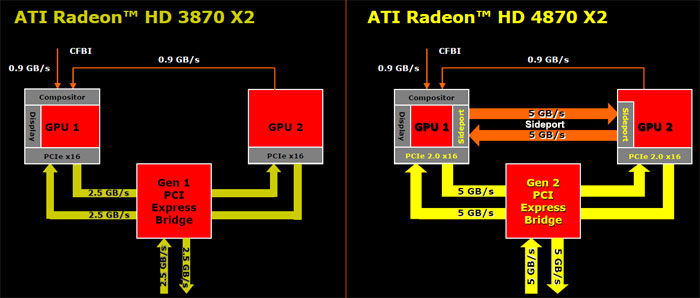 One novel feature of the HD 4870 X2 is that it has an additional direct-GPU-to-GPU interconnect called CrossFire Sideport (XSP). The XSP offers an additional 5 GB/s interlink bandwidth between the GPUs but is not enabled at this time. Yes, you read correctly. The official reason why the XSP is disabled at this time is because that much bandwidth is not required with current applications and it will be enabled at some point in the future via driver update.
One major advantage of the XSP that I see is that transfers between the GPUs would have a lower latency. The Gen2 PCI-E bridge will certainly be fast, but it will take a short time to process the incoming data and send it out to the other GPU (<140 ns). With the XSP's point-to-point interlink this delay is eliminated. So my speculation is that AMD is working on using the XSP feature but the driver support simply doesn't work as intended at this time.
Radeon
HD 3850
Radeon
HD 3870
GeForce
9600 GT
GeForce
8800 GT
GeForce
9800 GT
Radeon
HD 4850
GeForce
9800 GTX
GeForce
9800 GTX+
GeForce
8800 GTX
GeForce
GTX 260
Radeon
HD 4870
Radeon
HD 4850 X2
GeForce
GTX 280
Radeon
HD 4870 X2
Shader units
320
320
64
112
112
800
128
128
128
192
800
2x 800
240
2x 800
ROPs
16
16
16
16
16
16
16
16
24
28
16
2x 16
32
2x 16
GPU
RV670
RV670
G94
G92
G92
RV770
G92
G92
G80
GT200
RV770
2x RV770
GT200
2x RV770
Transistors
666M
666M
505M
754M
754M
956M
754M
754M
681M
1400M
956M
2x 956M
1400M
2x 956M
Memory Size
256 MB
512 MB
512 MB
512 MB
512 MB
512 MB
512 MB
512 MB
768 MB
896 MB
512 MB
2x 1024 MB
1024 MB
2x 1024 MB
Memory Bus Width
256 bit
256 bit
256 bit
256 bit
256 bit
256 bit
256 bit
256 bit
384 bit
448 bit
256 bit
2x 256 bit
512 bit
2x 256 bit
Core Clock
670 MHz
777 MHz
650 MHz
600 MHz
600 MHz
625 MHz
675 MHz
738 MHz
575 MHz
576 MHz
750 MHz
625 MHz
602 MHz
750 MHz
Memory Clock
828 MHz
1126 MHz
900 MHz
900 MHz
900 MHz
993 MHz
1100 MHz
1100 MHz
900 MHz
999 MHz
900 MHz
1000 MHz
1107 MHz
900 MHz
Price
$99
$125
$90
$140
$160
$170
$185
$200
$295
$270
$280
$400
$430
$550