Introduction
The newest kid of the block for gamers is the Radeon RX 5500 XT from AMD. We got our hands on a Sapphire RX 5500 XT 4 GB Pulse graphics card to explore the most affordable custom-design rendition of the GPU. The RX 5500 XT is targeted at the DIY retail channel (standalone graphics cards you buy at a store or online). It comes in two variants, 8 GB and 4 GB. Besides memory size, the two variants have identical specifications. The RX 5500 series was originally announced back in October, and since then, the company prioritized shipping the RX 5500M and RX 5500 (desktop) to OEMs, with no retail availability in sight.
The RX 5500 series is based on AMD's second 7 nm "Navi" family GPU, the "Navi 14." This chip has all of the generational newness in the form of the RDNA graphics architecture, GDDR6 memory, PCI-Express gen 4.0 support, and the entire software feature set of the RX 5700 series. AMD is stabbing at the crucial sub-$200 market with the RX 5500 series, promising full-detail AAA gaming at 1080p and bleeding edge e-Sports gaming. The company is expected to phase out the "Polaris" based RX 570 and RX 580 with the introduction of the RX 5500 series, as the new cards are designed for the same use case, but with improved power and noise characteristics thanks to 7 nm.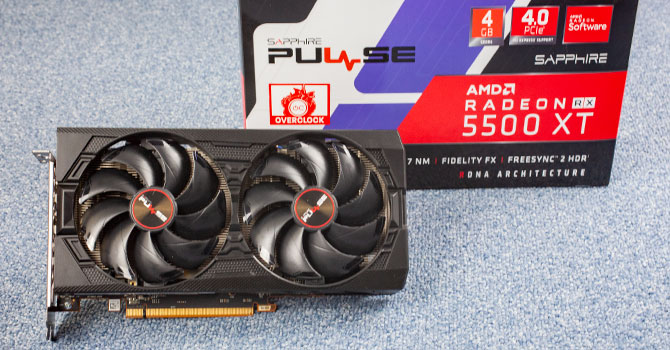 The Radeon RX 5500 XT surprisingly does not max out the "Navi 14" silicon, which physically features 24 RDNA compute units. The RX 5500 XT has the same 22 compute units as the RX 5500 we reviewed last month. What's more, it even has the same GPU and memory clock speeds with up to 1845 MHz boost and 14 Gbps (GDDR6-effective) memory. The only contraption that currently maxes out "Navi 14" is the Radeon Pro 5500M found exclusively on the Apple MacBook Pro 16-inch.
The RX 5500 XT is configured with 22 RDNA compute units amounting to 1,408 stream processors, 88 TMUs, 32 ROPs, and a 128-bit wide GDDR6 memory interface. The 4 GB variant uses four common 8 Gbit memory chips, but the 8 GB variant uses segment-first 16 Gbit chips. AMD rates the typical board power of the RX 5500 XT at 130 W, which is perhaps the biggest dividend of the switch to 7 nm.
The Sapphire RX 5500 XT 4 GB Pulse we're reviewing today sticks to AMD-reference clock speeds and has a design focus on low gaming noise. The Pulse features a proper aluminium fin-stack heatsink with a copper base-plate and three heat pipes spreading heat across the fin stack and also offers a few premium features, such as idle fan-stop, dual-BIOS, and a metal backplate. Sapphire is pricing the Radeon RX 5500 4 GB Pulse at $180, a minor $10 premium over the $169 AMD baseline.
Radeon RX 5500 XT Market Segment Analysis
Price
Shader
Units
ROPs
Core
Clock
Boost
Clock
Memory
Clock
GPU
Transistors
Memory
GTX 1650
$150
896
32
1485 MHz
1665 MHz
2000 MHz
TU117
unknown
4 GB, GDDR5, 128-bit
RX 570
$110
2048
32
1168 MHz
1244 MHz
1750 MHz
Ellesmere
5700M
4 GB, GDDR5, 256-bit
RX 5500
unknown
1408
32
1670 MHz
1845 MHz
1750 MHz
Navi 14
6400M
4 GB, GDDR6, 128-bit
RX 5500 XT
$170
1408
32
1717 MHz
1845 MHz
1750 MHz
Navi 14
6400M
4 GB, GDDR6, 128-bit
Sapphire RX 5500 XT 4 GB
Pulse
$180
1408
32
1737 MHz
1845 MHz
1750 MHz
Navi 14
6400M
4 GB, GDDR6, 128-bit
RX 5500 XT 8 GB
$200
1408
32
1717 MHz
1845 MHz
1750 MHz
Navi 14
6400M
8 GB, GDDR6, 128-bit
GTX 1650 Super
$160
1280
32
1530 MHz
1725 MHz
1500 MHz
TU116
6600M
4 GB, GDDR6, 128-bit
RX 580
$160
2304
32
1257 MHz
1340 MHz
2000 MHz
Ellesmere
5700M
8 GB, GDDR5, 256-bit
GTX 1060 3 GB
$170
1152
48
1506 MHz
1708 MHz
2002 MHz
GP106
4400M
3 GB, GDDR5, 192-bit
GTX 1060
$210
1280
48
1506 MHz
1708 MHz
2002 MHz
GP106
4400M
6 GB, GDDR5, 192-bit
RX 590
$180
2304
32
1469 MHz
1545 MHz
2000 MHz
Polaris 30
5700M
8 GB, GDDR5, 256-bit
GTX 1660
$210
1408
48
1530 MHz
1785 MHz
2000 MHz
TU116
6600M
6 GB, GDDR5, 192-bit
GTX 1070
$300
1920
64
1506 MHz
1683 MHz
2002 MHz
GP104
7200M
8 GB, GDDR5, 256-bit
RX Vega 56
$270
3584
64
1156 MHz
1471 MHz
800 MHz
Vega 10
12500M
8 GB, HBM2, 2048-bit
GTX 1660 Super
$230
1408
48
1530 MHz
1785 MHz
1750 MHz
TU116
6600M
6 GB, GDDR6, 192-bit
GTX 1660 Ti
$280
1536
48
1500 MHz
1770 MHz
1500 MHz
TU116
6600M
6 GB, GDDR6, 192-bit