Introduction
Scythe has been around for quite some time, getting their start back in 2002. They have since rapidly grown their reach, becoming a well-known and respected manufacturer of CPU coolers and fans. Their diverse portfolio of products along with a firm commitment to quality has resulted in the company earning a dedicated following.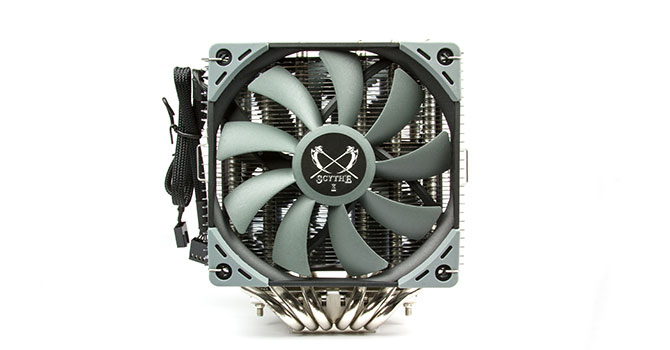 In today's review, I look at Scythe's Fuma 2. Going by the performance on offer from the original, I am excited to see the improvements Scythe has made, which include a revamped design, slim front fan, improved memory clearance, and dual-fan reverse airflow design. With so many improvements on tap compared to the original release, you could say I have high expectations, but that would be an understatement. Considering the original Fuma managed to give the biggest heavyweight air coolers a run for their money it will be interesting to see how the Fuma 2 holds up against the likes of the NH-D15S, among others.
Specifications
MANUFACTURER:
Scythe
MODEL:
Fuma 2
SOCKET SUPPORT:
Intel: LGA775, LGA1150, LGA1151, LGA1155, LGA1156, LGA1366, LGA2011, LGA2066
AMD: AM2, AM2+, AM3, AM3+, FM1, FM2, FM2+, AM4
HEATSINK:
Material: Aluminium (fins)
Copper (heat pipes)
Dimensions: 137 mm x 131 mm x 154.5 mm (including fans)
Heat pipes: Ø6 mm - 6 pcs
Weight: 1000 g (w/fans)
FAN:
Model: Kaze Flex 120 Slim PWM
Dimensions: 120 mm x 120 mm x 17 mm
Fan Speed: 300 - 1200 RPM
Fan Airflow: 8.28 - 33.86 CFM
Fan Noise: 2.7 - 23.9 dBA
FAN:
Model: Kaze Flex 120 PWM
Dimensions: 120 mm x 120 mm x 27 mm
Fan Speed: 300 - 1200 RPM
Fan Airflow: 16.6 - 51.17 CFM
Fan Noise: 4.0 - 24.9 dBA
FEATURES:
Dual fan reverse airflow (fans spin in opposite rotations for higher static pressure and airflow)
Fluid Dynamic Bearing 120 mm Kaze Flex fans
H.P.M.S. III (Hyper Precision Mounting System III)
Asymmetrical design with cut-out for memory clearance
WARRANTY:
Two years
MSRP:
$59.99
Packaging
Scythe uses a relatively small black box with an image of cooler in color on the front. Supported sockets and the fact that it uses Kaze Flex 120 mm PWM fans are also mentioned on the front. Turn to the left side and you will find the specifications of the cooler alongside mechanical drawings detailing the cooler's dimensions. The back details the product warranty in various languages.
The right side has a few paragraphs detailing the cooler and its features, such as the HMPS III mounting system, Kaze Flex fans, and the asymmetrical design. Meanwhile, the top has the cooler name and product designation along with a ninja in the background.
Contents
After opening the box, I was greeted by cardboard packaging. The cooler itself is supported by a smaller cardboard box that encases it and one of the fans with a piece of foam on top. To the right was the slim 120 mm fans with yet another smaller box to the left for all the mounting hardware.
Everything needed for pretty much every modern socket is included. Even the ancient LGA775 gets support due to the fairly universal design, and the number of parts is kept to a minimum, making things a bit simpler and easier for first-time builders. Scythe also includes an extra set of fan clips for a third 120 x 25 mm fan, allowing for three fans to be installed on this dual-tower cooler.
Common parts supplied for mounting include
4x Spacers
4x Bolt nuts
4x Fan clips (25 mm)
2x Fan clips (17 mm)
4x Stud nuts
4x Screws for AMD
2x Mounting plates
2x 120 mm fans
1x Y-cable
1x Backplate
1x LGA775 spacer
1x Tube of thermal paste
1x Heatsink
1x Screwdriver
1x Installation manual