Introduction
I would like to thank
Sharkoon
for providing the review sample.
Sharkoon offers a lot of different hardware. Their offerings include a wide range of external enclosures, cables, modding accessories, power supplies among other things.
This is how Sharkoon presents itself on their website:
"We do not follow any trends – we set them"

This is the claim the brand Sharkoon stands for with its products in the areas of gaming, modding, and storage solutions.

In the year 2006 we have been able to extend our portfolio by including new, fascinating products. Special thanks go to our developers who always commit their entire skills and inspiration for meeting even the markets most extravagant requirements by developing innovative products. So Sharkoon shows that unique design, convincing performance and affordable prices are not a contradiction in terms.

In these days high expectations and requirements are made to the acoustic performance of a modern computer. With the practically noise-free operation of its numerous 'Silent' products Sharkoon meets the growing demand in this field with, for example, a range of power supply units and a line of low-noise high-performance CPU and system coolers.

Get inspired by reading through our pages and enter the fascinating world of SHARKOON: Be part of it!
Closer Examination
The Sharkoon 1337 gaming mat XL comes packaged in the same see through roll as its smaller variant we reviewed
here
. Such packaging is the only plausible way to protect and ship a cloth pad.
The mouse pad is constructed the same way as its smaller brother. With black, high density foam, to keep the pad in place and a cloth surface. The foam has a very rough texture to further add friction between the surface and the mouse pad.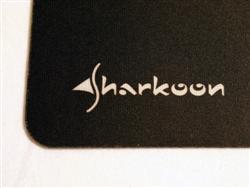 Once unpacked, its sheer size became aparent. It is 444 mm x 355 mm big. This results in a total area of 1576,2 cm². Sharkoon has also decided to place a logo on the bottom left corner instead of their website URL. This looks a lot nicer and also raises the awarness of the brand much better.