Introduction
We would like to thank Shuttle for supplying the review sample.
Shuttle is one of the few companies today that specializes in manufacturing small-sized barebone PCs that work with a huge range of applications. One of their latest offerings is the DS437T based on a fanless design. Shuttle says it to be designed for use where security is vital, like in government-, healthcare- and enterprise environments. The DS437T is actually incredibly reliable and features an inaudible operation because it uses no fans.
The brains of this barebone is an Intel Celeron 1037 dual-core CPU that runs at 1.8 GHz. Intel's built-in HD 2500 chip handles the graphics and supports full-HD content playback. The DS437T features lots of I/O ports since it is also meant for use with digital signage applications. One of its most interesting features is probably its support of the Trust Platform Module (TPM) which can be installed internally and provides a set of random keys for data security. TPM is a dedicated microprocessor that blocks access to unauthorized users. The product's other features include support for a dual-screen setup, the VESA mount Shuttle's slim-PC products usually come with, and an official certification that says it to work flawlessly around the clock (24/7).
The DS437T obviously packs much more than meets the eye, and this review will detail its features, performance, and capabilities.
Specifications
Shuttle DS437T
Chipset
Intel NM70 Express chipset
CPU
Intel Celeron 1037U dual core CPU
GPU
Intel® HD Graphics
Memory Support:
2 x 204 pin DDR3 SODIMM slots,8GB per DIMM (Max 16GB)
Dual Channel DDR3 1333 Mhz
Networking
Realtek 8111
IEEE 802.3u 100Base-T specification revision 1.0
100Mb/s and 1Gb/s operation
Support Wake-On-LAN function
Support 802.11b/g/n WLAN (RTL8188CE )
Audio
Realtek ALC662
Storage Interface
6.0Gb/s bandwidth SATA III
Front Panel
(2) USB 3.0 ports
(2) USB 2.0 ports
(1) SD Card Reader
(1) Power-On button
(1) Power LED
(1) HDD LED
Rear Panel
(2) RJ45 Gigabit LAN port
(1) DVI-I port
(1) HDMI port
(2) USB 3.0 ports
(2) USB 2.0 ports
(1) MIC in
(1) Line out
(1) RJ45 Gigabit LAN port
(1) External power on header
(1) DC in
(1) Kensinton lock
(2) Wireless antenna fixture
Drive Bays
(1) 2.5" HDD / SSD bay
Power
65W Power Adapter
Input:100- 240V AC
Output: 19V 4.47A DC
Expansion Slot
(1) Half size Mini-PCIE socket occupied by the WLAN module
Dimensions
200(L) x 165(W) x 39.5(H) mm
Warranty
3 years
Price
$220
An Ivy bridge dual-core Intel Celeron 1037U is the brains of this small Shuttle PC. This Ultra Low Voltage (ULV) CPU is clocked at 1.8 GHz and has an integrated VGA (Intel HD Graphics 2500). Its TDP is only 17 W, which makes it the perfect candidate for passive cooling, and the integrated graphics card supports DX11.1 and can provide resolutions of up to 2560 x 1600p. Intel's NM70 Express chipset also supports Intel Rapid Storage, SATA III, and dual-display outputs.
A Realtek ALC662 IC is responsible for the audio. Networking is also handled by a Realtek IC. The DS437T, contrary to the older DS47, bundles a single Gigabit Ethernet port and retains the WLAN module.
The NM70 chipset supports SATA III, so you can install a fast SSD and fully exploit its capabilities/speed. The two SODIMM DDR3 slots support memory speeds of up to 1333 MHz, and each can take a SODIMM of up to 8 GB in density. There is also a fully sized Mini-PCIe socket with mSATA support, which the WLAN module already occupies.
The warranty period is long enough, and judging by the product's features and characteristics, it is priced quite well. You will only have to install a stick of SODIMM RAM and an HDD, or better, an SSD, to have a fully functional unit, which amounts to around 400 bucks for a completely silent, all-around slim-PC for office work and multimedia playback; that is, if you go with an SSD.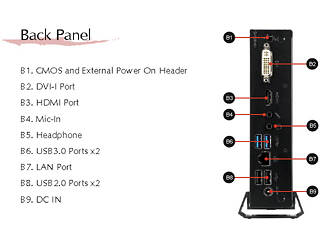 There are two USB 2.0 and 3.0 ports, each, its SD card reader, and power and HDD LED indicators at the front. The rear panel has several more I/O ports. These include an HDMI and DVI-I ports, two USB 2.0 and 3.0 ports, each, the headphone and MIC ports, and, finally, an Ethernet port. As you can see, the DS437T packs a lot of connectivity despite its incredibly small footprint. It is as small as it is because it uses an external power brick instead of an internal PSU. The latter can deliver up to 65 W, a sufficient amount to cover the needs of this system.