Introduction

SteelSeries' current lineup of gaming headsets goes by the name of Arctis and consists of three models simply dubbed the "3", "5" and "7", with the Arctis 3 starting at $80 and the most expensive one, the wireless Arctis 7, costing a full $150. Today, we'll take a look at the Arctis 5 positioned between them, both in terms of features and price. It's available online for $100, which automatically means its ambitions are high.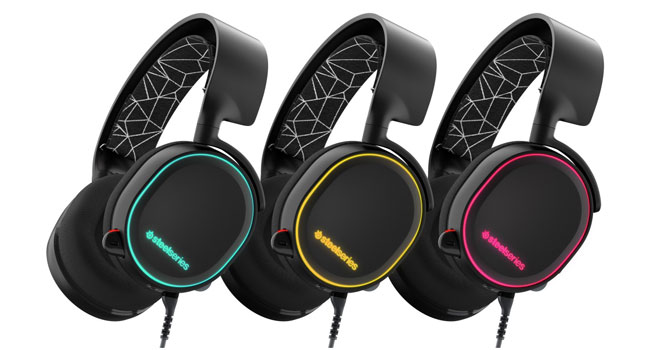 I did my best to find out if the word "Arctis" actually means something, but with little to no result. It's most likely a simple play on the word "Arctic", which would be in line with SteelSeries' inclination of naming their headsets by the coldest places on Earth. The company's entire lineup of headsets preceding the Arctis line was run under the name "Siberia", as many of you surely remember.
The SteelSeries Arctis 5 is an over-ear, closed-back USB gaming headset that sports several very interesting and unusual features, such as a ski-goggle headband, an RGB lighting system (SteelSeries calls it "Prism"), a so-called ChatMix Dial, built-in volume controls, a retractable bidirectional microphone, and cloth ear cushions. It also boasts DTS 7.1 Surround Sound capability and is available in two basic colors - black and white. Supported platforms? All of them, including the PC, Mac, PlayStation, Xbox, VR headsets, and smartphones. Even though the Arctis 5 is officially an USB headset, SteelSeries didn't forget to equip it with a 3.5-milimeter port and USB-to-3.5-mm adapter to give it much needed versatility connectivity-wise.
Coming in at $100, the SteelSeries Arctis 5 is by no means cheap, but read on to find out why I think it's worth every single penny SteelSeries is asking for it.
Specifications
40 mm dynamic drivers (neodymium magnet)
32 Ω impedance
20-22,000 Hz frequency response (specified by the manufacturer)
DTS Headphone:X 7.1 Surround Sound
Closed-back, over-ear design
Retractable bidirectional microphone
USB and 3.5-mm connectivity
RGB lighting system
ChatMix Dial
Detachable 3 m rubberized cable
3.5-mm 4-pole (TRRS) adapter
Weight: 308 g