Introduction
The SteelSeries Arctis 7 is the most expensive and luxurious member of the entire Arctis lineup. It will set you back a grand total of $150, a full 50% more than the
Arctis 5
I reviewed a couple weeks ago. SteelSeries tries to justify the price increase by keeping everything that's good about the Arctis 5, including the amazingly useful ChatMix Dial, and adding a couple extras, with the most prominent extra being the Artis 7's ability to be used wirelessly. You also get a metal headband instead of a plastic one. However, the RGB lighting system is gone, most likely in an attempt to save on battery life, and as you will find out later on in the review, it is quite a successful attempt at that.
In case you came here after reading the SteelSeries Arctis 5 review in an attempt to figure out whether the Arctis 7 offers the same sound quality, let me save you some time: yes, it does. The very same 40-millimeter dynamic drivers are used. The good people of SteelSeries call them the S1 Speaker Drivers and go out of their way to point out that they are the same ones as in the most expensive headsets they ever made. Aside from the standard stereo mode, these also support DTS Headphone:X 7.1 Surround Sound. They're built into a pair of closed-back, over-ear ear cups that are connected by a sturdy and beautiful-looking metal headband. The outer headband is covered with a replaceable elastic material that's usually used on ski goggles, which doubles up as a stretchy inner headband. There's also the very same retractable bidirectional microphone that was found on the Arctis 5. I had some issues with it on the Arctis 5, so it will be interesting to find out if it fares any better in this particular case.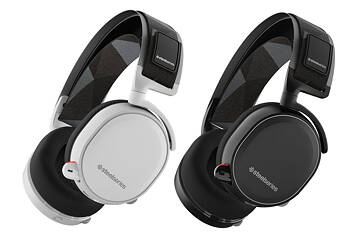 The SteelSeries Arctis 7 is available in black and white. It offers a plethora of dials and buttons in both cases, including the volume dial, ChatMix Dial, and microphone mute button. There are two ways to establish a wired connection with the sound source: via a standard 3.5-milimeter port (cable not supplied) and a fairly uncommon 8-pin Mini-USB. Thanks to that, it officially supports the PC, Mac, PlayStation, HTC Vive, and Oculus Rift wirelessly and other VR systems, the Xbox, and smartphones in wired mode.
By going through this introduction, it's quite obvious by now that the SteelSeries Arctis 7 improves every aspect of the Arctis 5 that was on my "cons" list in that review. That makes it a potential candidate for the best wireless headset I ever had the pleasure of using. Read on to find out if that turned out to be the case.
Specifications
40-mm dynamic drivers (neodymium magnet)
32 Ω impedance
20-20,000 Hz frequency response (specified by the manufacturer)
DTS Headphone:X 7.1 Surround Sound
Rechargeable li-ion battery (up to 15 hours of battery life)
Closed-back, over-ear design
Retractable bidirectional microphone
Wireless, USB and 3.5-mm connectivity
12-meter wireless range
Built-in ChatMix Dial
Detachable 1.2 m rubberized cable (4-pole TRRS)
1.5 m rubberized USB charging cable
Weight: 370 g