Introduction
We would like to thank Super Flower for supplying the review sample.
Super Flower's impact on the PSU market has been quite significant within the last couple years, their products scoring a very high price-to-performance ratio that puts a lot of pressure on the competition, which makes consumers happy since such competition leaves them with more choice. In an effort to showcase their new platform capable of Titanium efficiency with up to 1.6 kW, Super Flower has now released a PSU for extreme overclockers with a capacity of 2 kW (unofficially, it can go even higher), which is enough to easily handle multiple overclocked high-end VGAs. Even 1 kW is too much for most users and enthusiasts usually only need 1.2 kW or so at most. So far, 1.6 kW has been the roof for PSUs and extreme overclockers sometimes had to use two of them, one for their VGAs and another for the rest of the system. Such won't be the case with the new Leadex Platinum 2 kW since we believe it to be strong enough to cover everyone's needs and any situation. The only compromise is that it has to run off 230 VAC mains since it would need much more than the 15 A 115 VAC mains can deliver.
The 2 kW Leadex unit shares many features with its smaller brother, so it is fully modular and uses the same enclosure. The platform inside is the same as in the Leadex Titanium 1.6 kW and the EVGA P2 and G2 PSUs. However, some component changes allow this PSU to deliver more than 2 kW under extremely tough conditions. Super Flower definitely made a point with this product as it is currently the strongest desktop PSU money can buy. Since modern Nvidia GPUs also consume significantly less power than their predecessors, many will argue about whether such a high-wattage PSU actually has a use. The truth is that even four Nvidia GTX980/970 VGAs won't draw no more than 1.2 kW under normal stock conditions; however, experienced overclockers know that some components, once pushed to their limits, can consume a ton of power, and this is where PSUs like the Leadex one we will evaluate today come into play. The Leadex Platinum 2 kW simply isn't a PSU normal or even enthusiast users would purchase for their system, but it will be the ultimate tool for a hardcore overclocker looking to break those world records with multiple VGAs without having to use two PSUs.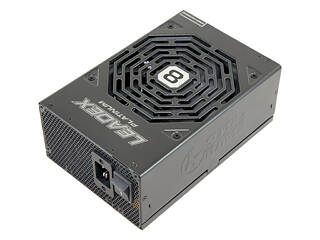 Specifications
Super Flower SF-2000F14HP Features & Specs
Max. DC Output
2000W
PFC
Active PFC
Efficiency
80 PLUS Platinum (230V EU)
Modular
Yes (Fully)
Intel Haswell Ready
Yes
Operating temperature
0°C - 50°C
Protections
Over Voltage Protection
Under Voltage Protection
Over Power Protection
Over Temperature Protection
Short Circuit Protection
Cooling
140 mm Double Ball-Bearing Fan (RL4Z-B1402512EH)
Semi-passive operation
No
Dimensions
150 mm (W) x 86 mm (H) x 225 mm (D)
Weight
3.0 kg
Compliance
ATX12V v2.31, EPS 2.92
Warranty
5 years
Price at time of review (exc. VAT)
311€
The unit is compatible with the newer 80 Plus Platinum 230V EU certification, so the requirements are higher than those for a regular 80 Plus Platinum certification with 115 VAC input. A quick look at Ecova's site shows that there are actually two 2 kW Super Flower PSUs, one with the Platinum 230V EU certification and another with the Gold 230V EU certification. Super Flower obviously plans on releasing a more affordable version of this beast, which is good news for overclockers since they don't care as much about a PSU's efficiency because their testing sessions aren't long enough for it to make a difference.
A fully modular cabling design is used, and the maximum temperature at which the unit can deliver its full power is 50°C, which is impressive for such a high capacity PSU. All protections but OCP (Over Current Protection) are present, but OCP is useless in a 2 kW PSU. A 140mm, double ball-bearing fan is there to keep the unit cool, and Super Flower chose not to go with a semi-passive operation this time around. The unit is pretty big, but the enclosure holds a PCB for a PSU with a capacity of 2 kW, so it couldn't be any smaller. The price looks very good considering what the Leadex unit offers.
Super Flower SF-2000F14HP Power Specs
Rail
3.3V
5V
12V
5VSB
-12V
Max. Power
24A
24A
166.6A
3A
0.5A
120W
1999.2W
15W
6W
Total Max. Power
2000W
The single +12V rail can almost deliver 167 A on its own! This is currently the strongest available desktop PSU; it will easily handle any system. The minor rails are more conservative since their maximum combined output is 120 W, which is enough. As for the 5VSB rail, we would at least like to see 4-5 A on the rail, but Super Flower apparently didn't want to invest into implementing a new circuit for this rail, so they used the same one as in other high-capacity Leadex units.
Cables & Connectors, Power Distribution
Modular Cables
ATX connector (600mm)
20+4 pin
4+4 pin EPS12V (750mm)
2
6+2 pin PCIe (750mm)
4
6+2 pin PCIe (750mm) / 6 pin PCIe (+145mm)
10
SATA (550mm+100mm+100mm+100mm)
16
4 pin Molex (550mm+100mm+100mm)
6
FDD (+150mm)
2
The main ATX cable is long enough for most cases, but it would been better had Super Flower made it 65 cm long, just for really large cases. Avoid extenders if you can, especially in a system that draws a lot of current. However, so long as all cables are modular, you can either create a longer cable if you know how to or buy another from a vendor that makes compatible PSU cables (e.g. EVGA). Super Flower doesn't yet offer a separate cable kit.
The EPS and PCIe cables are long enough, and the distance between PCIe and SATA connectors is spot on, but we would like to see 13 cm instead of 10 cm between peripheral connectors. The main ATX, EPS, and PCIe cables use thicker 16AWG gauges for lower voltage drops, while all other connectors use 18AWG wires, which is as the ATX specification recommends.
Since this PSU features a single +12V rail, we do not have anything to comment on when it comes to its power distribution.
Packaging
We admit that we found the packaging's design a bit frustrating. Given it is the most powerful PSU to date, we expected something more macho than a butterfly, Super Flower's trademark, that covers the entire front of the box. Simply put, Super Flower didn't want to change the packaging by spending money on a new design, so they used the same as with all of their Leadex offerings. The most interesting bits of information on this side are the 80 Plus Platinum 230V EU badge and the capacity description in the bottom-left corner.
One side holds a brief features description while the other comes with a picture of the PSU in its two available colors. We got the black version, which will make taking pictures against a white backdrop rather easy.
A tiled graphic on the rear includes the product's most interesting features and an interesting, but rather small photograph of its internals. On the right side is the specifications table and a little below it is a graph with the fan's speed curve throughout the unit's entire operating range. Super Flower says the fan to start at 900 RPM and max out at 2000 RPM.