Introduction
We would like to thank Synology for supplying the review sample.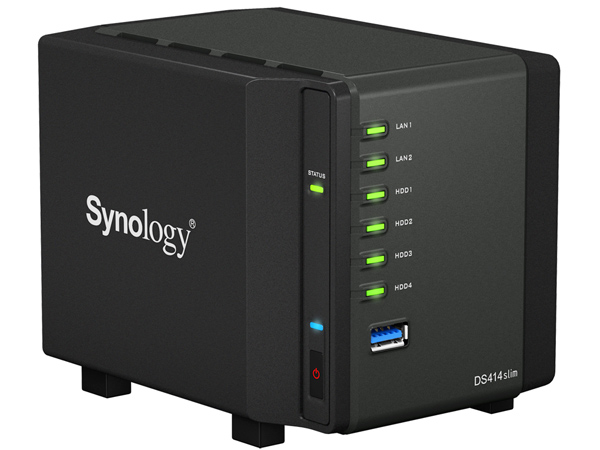 Synology is a leader in the NAS market, and their portfolio of products covers all user needs and market segments. However, even a company with as many products as Synology has room for something new. At this year's Computex, we had the chance to check on their new DS414slim NAS and were amazed by its incredibly small dimensions and really nice design. Synology managed to pack all the features a contemporary NAS can provide into such a small case, so it can look its larger brothers right in the eye. The DS414slim's design is extraordinary and smart at the same time as it addresses people who have very little room, but still want all the features a good NAS can provide.
Because of its restricted footprint, the DS414slim is only compatible with 2.5" HDD/SSDs. It can take four of those. It is also fully compatible with all the features of Synology's DiskStation Manager OS. These include multimedia entertainment, various backup solutions, cross-platform sharing, etc. Its dual Ethernet ports also support the Link Aggregation protocol, which you can utilize to produce either higher network transfer speeds or a failover protection mechanism. Synology says the unit to be very energy efficient, which we will verify in this review, and its small fan in the bottom is easily replaceable. We don't understand why Synology would mentioned the latter feature, although it is probably due the fact that small fans tend to last a shorter period of time compared to bigger fans of equal quality since they spin at higher speeds, or Synology just meant to make sure users could easily swap the fan out for a lower-noise variant should a quieter operation be the prerogative. The DS414slim looks incredibly interesting, and we will detail all of its features and capabilities in these pages.