Introduction
Team Group is a well-known Taiwanese memory and flash storage maker with a long history of catering to the needs of users from all over the globe. Today, we have for review the Team Group Cardea II M.2 NVMe PCIe SSD in the 1 TB version.
The drive uses the compact M.2 form factor with a PCI-Express x4 connection to the rest of the system. Phison's new E12 controller is used, paired with Toshiba 3D TLC flash chips. Rounding off the package is 1 GB of DDR4 DRAM to store the flash mapping tables. From a technical perspective that makes it very similar to the Team Group MP34 SSD we reviewed a while ago. The big difference is that the Cardea II comes with a large metal heatsink pre-installed, which should help keep temperatures in check to avoid any thermal throttling.
The Team Group Cardea II SSD is available in capacities of 256 GB ($61), 512 GB ($91), and 1 TB ($151). Endurance is rated at 380 TB, 800 TB, and 1,665 TB respectively.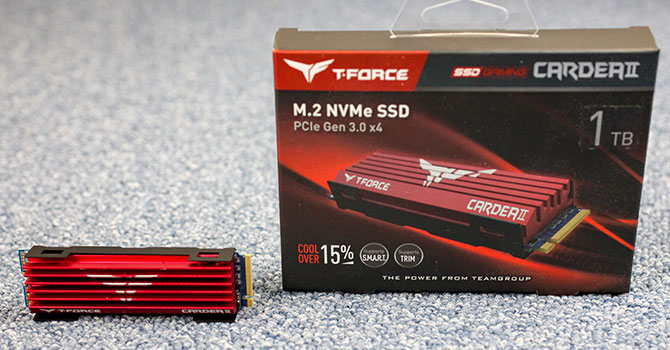 Specifications: Team Group Cardea II 1 TB
Brand:
Team Group
Model:
TM8FP5001T0C110
Capacity:
1024 GB (954 GB usable)
No additional overprovisioning
Controller:
Phison PS5012-E12-27
Flash:
Toshiba 15 nm, 64-layer 3D TLC
TCBBG55-AIV
DRAM:
2x Hynix DDR4-2400 512 MB
H5AN4G8NBJA-UHC
Endurance:
1,665 TBW
Form Factor:
M.2 2280
Interface:
PCIe Gen 3 x4, NVMe 1.3
Device ID:
T-FORCE TM8FP5001T
Firmware:
ECFM12.2
Warranty:
3 years