Introduction

From the Thermalright website:
Since the establishment of the brand in 2001, Thermalright has been dedicated to engineering professional computer cooling solutions for more than a decade. We have set many standards in the cooling industry which are still widely implemented today, and have been the leading brand that others tend to follow and imitate. Quality and performance are the very goals Thermalright pursues. By improving product details and consumer experiences, we provide products that stand out in both quality and performance to our users.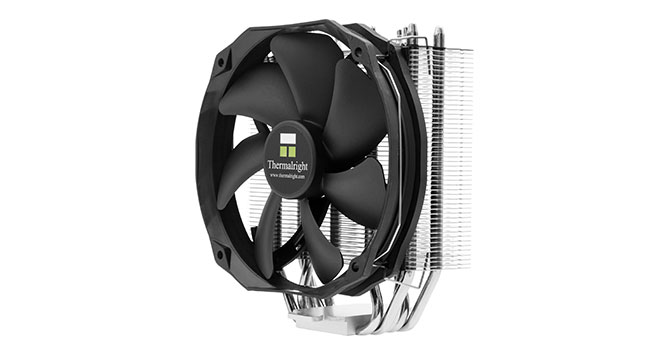 Thermalright is a top-notch manufacturer of exceptional PC-cooling products. They offer high quality heatsinks and fans and have become a go-to for enthusiasts looking for something traditional instead of all-in-one liquid coolers. That said, they don't stop at just CPU coolers, either. Their product lineup has included coolers for CPUs, video cards, memory, mosfets, and even gaming consoles over the years. You could in fact say that if there's a device that needs cooling, Thermalright has probably made something for it.
With the likes of the Silver Arrow SB-E, HR-22, AXP 200, and Macho series of coolers, Thermalright has something for everyone when it comes to keeping their parts cool. With options for high-end, low-profile, and even ITX friendly designs, they have a wide selection to choose from. Add to that their willingness to improve on products which already feature solid designs and why they remain so popular is a no brainer.
In today's review, I look at Thermalright's new True Spirit 140 Direct. This new addition to the True line of coolers is a bit more petite than the Macho lineup, but has some interesting specifications. Utilizing a thin single-tower design with a TY 140 PWM fan, its relative lack of weight, coming in at just 810g, and rated TDP of 200 has me intrigued; let's take a closer look without any further delay.
Specifications
Manufacturer:
Thermalright
Model:
True Spirit 140 Direct
Socket Support:
Intel: LGA775, LGA1150, LGA1151, LGA1155, LGA1156, LGA1366, LGA2011, LGA2011-3
AMD: AM2, AM2+, AM3, AM3+, FM1, FM2, FM2+
Heatsink:
Material: Aluminum (fins)
Copper (heatpipes & base)
Dimensions: 140 mm x 68.5 mm x 161 mm (w/fan)
Heatpipes: Ø6 mm - 5pcs
Weight: 810 g
Fans:
Model: TY 140 PWM Black
Dimensions: 152 mm x 140 mm x 26.5 mm
Fan Speed: 300 - 1300 RPM (PWM)
Fan Airflow: 16.8 - 73.5 CFM
Fan Noise: 15 - 21 dBA
Features:
Low noise
Easy mounting
VGA card clearance
Mosfet clearance
Tall memory clearance
HDT design offers 4 mm better clearance than True Spirit 140 BW Rev. A
Warranty:
Two years
MSRP:
$46.95/€37.99
Packaging
The Thermalright True Spirit 140 Direct comes in a box that measures in at roughly 15.2 cm long, 11.75 cm wide, and 18.6 cm high. On the front, you will find a glossy color image of the cooler along with the product name and Thermalright logo. Moving on, the left side again has a glossy color image of cooler, but this time, it prominently shows the heatpipe direct-touch base. The back barely lists any of the True Spirit 140 Direct's specifications as some data, like heatpipe size, warranty, etc., is absent.
On the right side is a quick hit list of the cooler's features, which include but are not limited to easy mounting, PWM fan, low noise, socket clearance, and more. The top just has True Spirit 140 Direct in white.
Contents
Thermalright packaged the True Spirit 140 Direct in a thin layer of foam inside a cardboard box. To be blunt, the amount of protection for the product is minimal. That said, it's still a drastic improvement over just plain cardboard with no protection at all. I would have liked some thicker foam or a bit more space around the product, but generally speaking, the packaging is passable, though only barely so.
The True Spirit 140 Direct requires very little effort to install, but has a lot of small bits and pieces.
Common parts supplied for mounting include:
8x Rubber fan mounts
5x M3 L6 screws
5x M3 L10 screws
4x AMD washers
4x Intel washers
4x Fan clips
4x LGA 2011 pillars
4x Scew nuts
3x M3 L7 screws
1x LGA 1151 CPU support plate
1x LGA 775 spacer
1x Mounting plate
1x Backplate
1x Backplate mylar film
1x Packet of thermal grease
1x Instruction book
1x Pair of gloves
1x 140 mm fan
1x Heatsink