Introduction

From the Thermalright website:
Since the establishment of the brand in 2001, Thermalright has been dedicated to engineering professional computer cooling solutions for more than a decade. We have set many standards in the cooling industry which are still widely implemented today, and have been the leading brand that others tend to follow and imitate. Quality and performance are the very goals Thermalright pursues. By improving product details and consumer experiences, we provide products that stand out in both quality and performance to our users.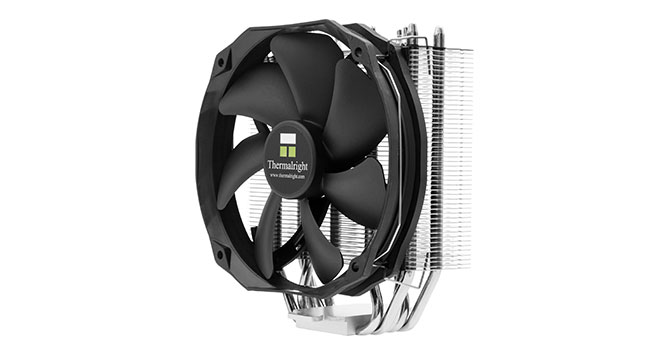 Thermalright is a top-notch manufacturer of exceptional PC-cooling products. They offer high quality heatsinks and fans and have become a go-to for enthusiasts looking for something traditional instead of all-in-one liquid coolers. That said, they don't stop at just CPU coolers, either. Their product lineup has included coolers for CPUs, video cards, memory, mosfets, and even gaming consoles over the years. You could in fact say that if there's a device that needs cooling, Thermalright has probably made something for it.
With the likes of the Silver Arrow SB-E, HR-22, AXP 200, and Macho series of coolers, Thermalright has something for everyone when it comes to keeping their parts cool. With options for high-end, low-profile, and even ITX friendly designs, they have a wide selection to choose from. Add to that their willingness to improve on products which already feature solid designs and why they remain so popular is a no brainer.
In today's review, I look at Thermalright's new True Spirit 140 Direct. This new addition to the True line of coolers is a bit more petite than the Macho lineup, but has some interesting specifications. Utilizing a thin single-tower design with a TY 140 PWM fan, its relative lack of weight, coming in at just 810g, and rated TDP of 200 has me intrigued; let's take a closer look without any further delay.
Specifications
Manufacturer:
Thermalright
Model:
True Spirit 140 Direct
Socket Support:
Intel: LGA775, LGA1150, LGA1151, LGA1155, LGA1156, LGA1366, LGA2011, LGA2011-3
AMD: AM2, AM2+, AM3, AM3+, FM1, FM2, FM2+
Heatsink:
Material: Aluminum (fins)
Copper (heatpipes & base)
Dimensions: 140 mm x 68.5 mm x 161 mm (w/fan)
Heatpipes: Ø6 mm - 5pcs
Weight: 810 g
Fans:
Model: TY 140 PWM Black
Dimensions: 152 mm x 140 mm x 26.5 mm
Fan Speed: 300 - 1300 RPM (PWM)
Fan Airflow: 16.8 - 73.5 CFM
Fan Noise: 15 - 21 dBA
Features:
Low noise
Easy mounting
VGA card clearance
Mosfet clearance
Tall memory clearance
HDT design offers 4 mm better clearance than True Spirit 140 BW Rev. A
Warranty:
Two years
MSRP:
$46.95/€37.99