Introduction
I would like to thank Thermaltake for supplying me with the unit for review.
For the stereotype american the remote control is probably the most important aspect of his home life. That's probably why Thermaltake is the first manufacturer to create a fan controller that can be controlled via infrared remote. This is a great idea if you use your computer to watch movies - turn down the fan to reduce noise while you are watching.
Remote Control
Dimensions:
89.9 x 54.7 x 7.7 mm
Lift Exception:
45.000 times
Rated Temperature:
-10°C - +60°C
Transmit Distance:
12m (open space)
Battery Voltage
2.8V - 3.2V
Receiver
Device Space
5.25" drive device
Dimensions
148.4 x 42 x 68 mm
Rated Temperature
0°C - 70°C
Input Voltage
DC 12V
Output Voltage
DC 12V
Output Channels
Four
Max. Current per channel
1 Ampere
Rated Frequency
4 MHz
Receive Distance
12m (open space)
Receive Direction
45° (+- 22.5° )
Packaging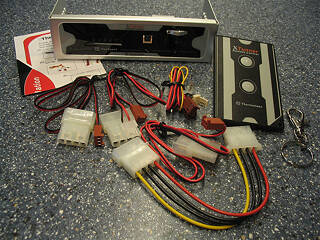 Box contents:
5.25" Fan Controller
IR Remote Control
Manual
Misc cables
What I find a bit odd here is that no mounting screws are included, on the other hand almost every computer user should have the required screws to mount it.